Extra care housing - What is it?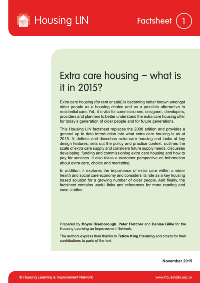 Extra care housing (for rent or sale) is becoming better known amongst older people as a housing choice and as a possible alternative to residential care. Yet, it is vital for commissioners, designers, developers, providers and planners to better understand the extra care housing offer for today's generation of older people and for future generations.
This Housing LIN factsheet no1 replaces the 2008 edition and provides a general up to date introduction into what extra care housing is as at 2015. It defines and describes extra care housing and looks at key design features; sets out the policy and practice context; outlines the scale of extra care supply and considers future supply needs; discusses developing, funding and commissioning extra care housing and how to pay for services. It also takes a customer perspective on information about extra care, choice and marketing.
In addition, it explores the importance of extra care within a wider health and social care economy and considers its role as a key housing based solution for a growing number of older people. And finally, the factsheet contains useful links and references for more reading and case studies.
Note: This factsheet was published in 2015. It was accurate at the time of publication.