Extra Care Housing - the heart of the community in Porthmadog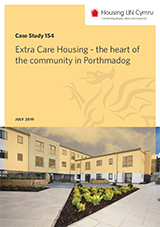 Housing LIN Case Study 154 looks at Hafod y Gest, in Porthmadog.
Hafod y Gest is Grŵp Cynefin's fourth extra care scheme and was developed in partnership with Gwynedd Council. It offers older people a superb opportunity to benefit from an independent lifestyle in their own apartment within a safe and supportive environment, with the added benefit of having a flexible 24 hour care service on site.
The benefits for the tenants include:
Tenants have their own tenancy and their own front door
Couples can stay together
Tenants are supported to maintain their independence
A variety of social and communal activities are available
Tenants have diverse levels of care and support needs and benefit from the flexible, tailored services that are available on site.