Ever more needed? The role of the Leeds Neighbourhood Networks during the COVID-19 pandemic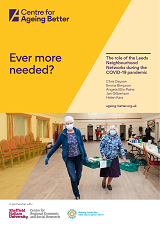 This report by the Centre for Ageing Better explores the role that the Leeds Neighbourhood Networks (LNNs) played during the pandemic with respect to assist with local wellbeing of older people.
The 4 key aims that Leeds City Council hoped that LNNs would assist with, for older people, were:
To reduce their social isolation and loneliness
To increase their contribution and involvement
To improve the choices and control in their lives
To enhance their health and wellbeing
The report includes key findings such as some Neighbourhood Networks (NN) becoming 'Community Care Hubs' which co-ordinate voluntary action in their area, helping a wider range of people including younger adults and families. Alongside the key findings are case studies of where a NN has been successful in its local society.
Additionally included are factors that explain the LNNs' pandemic response, including resource, strategy & leadership, mission, vision and values-based factors. The report concludes with a set of 5 recommendations aimed towards the national government and local authorities to help support the functioning of local community infrastructure groups such as the LNNs.