Driving better health outcomes through integrated care systems: The role of district councils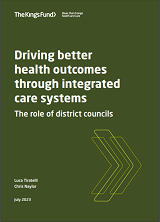 The King's Fund, an independent charity working to improve health and care in England, has published the findings from interviews they held with district council officers and integrated care board (ICB) staff in four sites from around England to better understand the current relationships between local government and ICBs, what good practice looks like, what enables it and the outcomes it produces.
The research was conducted because they wanted to find out what good looks like in terms of district council involvement in integrated care systems (ICSs), and to explore the factors that underpin success. They also wanted to unearth case studies and find examples of what becomes possible when district councils are playing an active part in ICSs.
In doing so, they found:
The value of district councils
How councils can influence the wider determinants of health
Council's ability to act and react in fast, agile ways
Their strong, close connections to local communities
And five key principles that underpin the successful involvement of direct councils in ICSs