Do the generations need each other or 'never the twain should meet'?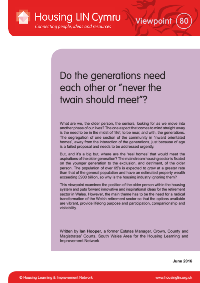 This Housing LIN Viewpoint no 80 examines the position of the older person within the housing system and puts forward innovative and inspirational ideas for the retirement sector in Wales.
However, the main theme has to be the need for a radical transformation of the Welsh retirement sector so that the options available are vibrant, provide lifelong purpose and participation, companionship and visitability.