Designing with Downsizers: The next generation of 'downsizer homes' for an active third age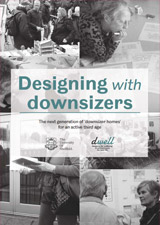 This report and series of additional papers from The University of Sheffield DWELL Project (opens new window) (Designing for Wellbeing in Environments for Later Life) captures some of the findings from a three year research project co-produced with older residents in Sheffield. Funded by the EPSRC-led Lifelong Health and Wellbeing cross-council research programme, the multi-disciplinary DWELL project sought to explore third-agers' housing aspirations to generate a series of design proposals using a co-design process.
The findings reveal that many households would be keen to downsize in later life if there were more attractive options available in the right locations. The research showed strong demand for better quality and more adaptable homes, where people can continue to live and socialise in mixed-age communities.
The main report makes a powerful case for the development of a diverse range of age-friendly 'downsizer' homes. It is supported by a couple of insightful further papers evidence and provides an insightful commentary on the implications for housing designers, developers, and policy-makers.