Designing for an Autonomous Community - Bruyn's Court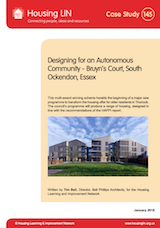 This Housing LIN case study (No 145) features a multi-award winning scheme that heralds the beginning of a major new programme to transform the housing offer for older residents in Thurrock.
This design uses general needs housing as a template, but with a particular emphasis on creating community and catering for the physical needs of people in this age group.
Designed to HAPPI principles and with a mix of five 1-bed flats, seventeen 2-bed 3-person flats, and three 2-bed 4-person flats, plus a common room at ground floor, but no other communal functions or services such as concierge or on-site staff, residents are expected to be autonomous.
It is intended that Bruyn's Court will require minimal management from the council, thereby reducing the ongoing financial burden on the council, whilst empowering the residents to live an autonomous and sociable life.