Design Principles for Extra Care Housing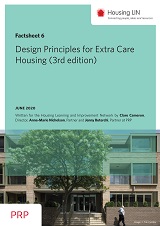 This updated Housing LIN Factsheet no 6, now in its 3rd edition, describes key design principles and issues to consider when developing a brief for a new Extra Care Housing development.
Written by PRP Architects, the new version takes into account the progress made in designing extra care housing to the HAPPI design quality principles and latest accessibility requirements for an ageing population.
Of particular significance, it has also been updated to address health and safety considerations following Grenfell, the avoidance of overheating and, more recently, the impact of Coronavirus on the design of self-contained accommodation for older people. For examples, layout measures to limit infection control whilst maintaining social interaction for residents.