Building for a Healthy Life: Rochester Riverside - a Housing Design Award-winning development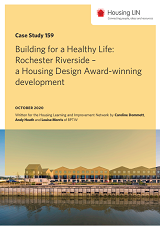 The quality of our homes and urban environments play a vital role in our health and wellbeing; something that has become all the more evident in 2020, especially as a result of the pandemic. This Case Study (No 159) for the Housing Learning and Improvement Network, captures the key design characteristics that establish a route to healthy, sustainable, and enjoyable home for all ages. It features this year's winning entry from the Housing Design Award's first-ever Building for a Healthy Life category.
Written by Caroline Dommett, Andy Heath and Louise Morris at BPTW architects, it describes the redevelopment of the former local dockyards in in Rochester, Kent, for Countryside and The Hyde Group. The result, a pleasant, sustainable and varied neighbourhood along the Medway waterfront that encourages an active lifestyle, whilst retaining strong connections to the town.
The twelve Building for a Healthy Life criteria were important factors in the development of the 131 new homes (25% affordable) and creating a place focused on the wellbeing, health and resilience of the community. And with 10 different housing typologies, the scheme caters for the different lifestyles and varied family types in modern society, with the ultimate goal of creating a mixed intergenerational neighbourhood with appropriate housing for everyone. Read the case study and access the Housing Design Awards film of this winning development.