Bridgend County Care & Repair - Managing Better: A Critical Prevention Study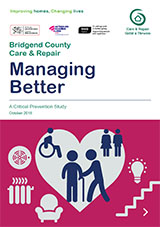 This report from Bridgend County Care and Repair looks at their Managing Better service. Featuring numerous case studies this report shows that by effectively targeting interventions service users' quality of life can be much improved and pressure on public services can be reduced. It is estimated that every £1 invested in Managing Better yields a £4 saving in other services.
From the report summary:
The principal achievement of Managing Better is working together across sectors to upstream interventions and prevent avoidable pressures on public services escalating. It is clearly focussed on increasing independence and reducing dependency: improving personal resilience.

Managing Better provides significant learning for public service integration as well as providing innovative templates for prevention. Most of all it casts a bright light on some of the darker corners of service delivery, ensuring how less
included, isolated and hard-to-reach older people, can be genuinely helped to manage better in terms of daily living and quality of life.