Better Lives, Better Endings: A collaboration between extra care housing and a hospice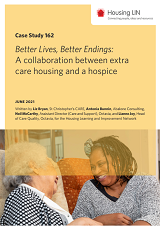 Following an initial collaboration between Octavia and St Christopher's in 2017, the two organisations developed a shared vision for a project that would facilitate conversations, decision and plans related to how and where people want to live in the last years of life.
This new Housing LIN Case Study (No 162), and written by Liz Bryan, Antonia Bunnin, Neil McCarthy and Lianne Joy, draws on the voices and experience of people living in extra care housing in West London provided by Octavia in addition to the views and skills of staff working in Octavia and St Christopher's. The intention of the project was to encourage an inclusive and proactive approach to planning the end-of-life care for everyone involved.
The project took off to a successful start. Scoping visits, interviews and small group discussions revealed the nature of the relationships between, and the narrative around, extra care staff and seriously ill or dying residents.
"It has not come up. Because it is a very sensitive issue, you don't approach the person to talk about it [residents' wishes for the future and end of life]. You have to let the person talk about it themselves, and it hasn't happened."
Although the Covid-19 pandemic presented many obstacles to overcome, especially in the healthcare setting, this case study reveals how the project adapted to support extra care staff during the Covid-19 outbreak. A reflection of such events disclosed what might be done better to ensure the best possible end-of-life experience for residents living in Octavia extra care housing schemes.