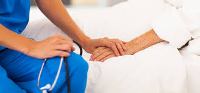 About 1% of the population die each year. At the beginning of the 20th century almost everybody died at home but by the end of the century it was down to about 20%. Nationally, about two-thirds of us would prefer to die at home.
End of Life Care is the care and support provided to people as their health declines and it is recognised that the end of their lives is approaching. It enables the supportive and palliative care needs of both individuals and their families to be identified and met throughout the last phase of life and into bereavement. It includes the management of pain and other symptoms and the provision of psychological, social, spiritual and practical support.
The resources on these pages are intended to raise awareness among housing and care practitioners and providers of the current agendas and developments in practice around end of life care. They also include tools that have been developed to assist with the provision of end of life care services in the community.
For resources related to end of life care for people living with dementia click on Dementia Practice