Better End of Life Report 2021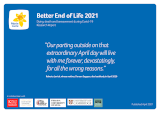 This research shows that end of life care was not seen as an essential, frontline NHS service in the pandemic and shows how palliative and end of life care in the UK was compromised by shortages of PPE, essential medicines, and equipment.
Better End of Life – a collaboration between Marie Curie, King's College London Cicely Saunders Institute, Hull York Medical School, University of Hull, and the University of Cambridge – examined evidence on the current state of dying, death and bereavement across the four nations of the UK and propose a policy agenda aimed at helping to ensure that everyone has the best possible end of life experience. It found:
Approximately 91,000 more people died this year compared to the average for each of the previous five years.
The pandemic has had big impacts on dying people and their families and carers, regardless of cause of death.
For people with terminal illness, lockdown and social distancing policies have caused isolation and loneliness during a phase of life where relationships and human contact are of utmost importance.
Community care has been stretched at the same time as people may have felt discouraged from seeking hospital care.