Bereavement in the time of Covid-19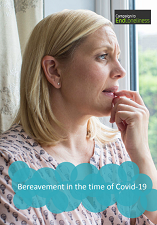 'Bereavement in the time of Covid-19' is a guide for voluntary organisations who are supporting people who have been bereaved during COVID-19. Launched by the Campaign to End Loneliness, the report brings together the latest ideas and learning from leading experts in bereavement care including Cruse Bereavement UK and St Christopher's Hospice.
The report shares a wide range of practical hints, tips and techniques, including:
Information on bereavement in the context of Covid-19.
Insights around the thoughts, behaviours, feelings and physical sensations of grief.
Actions for voluntary organisations to better support people who have been bereaved.
Informative case studies.
Ideas and resources on delivery.
Gaps and challenges associated with supporting people through bereavement during the pandemic.
This period of significant learning and innovation will inform future Campaign to End Loneliness work.