Approaches to integrated housing, health and social care services: case studies from North Tyneside Council and Northumbria Healthcare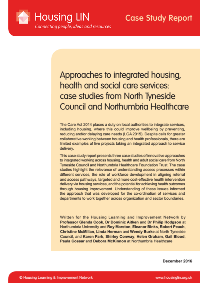 This Housing LIN Case Study Report presents three case studies of innovative approaches to integrated working across housing, health and adult social care from North Tyneside Council and Northumbria Healthcare Foundation Trust.
The case studies highlight the relevance of understanding access processes within different services, the role of workforce development in aligning referral and access pathways, targeted and more cost-effective health intervention delivery via housing services, and the potential for achieving health outcomes through housing improvement. Understanding of these issues informed the approach that was developed for the co-ordination of services and departments to work together across organisation and sector boundaries.