Almshouses for the 21st century: transformation in progress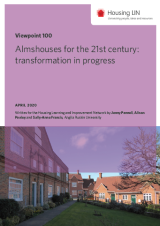 It is appropriate that this Viewpoint should be no.100.
Almshouses are the oldest form of community-led housing, pre-dating other social housing, care and support for centuries. Our focus is on the future role of almshouses, not their social history. Yet at this extraordinary time, perhaps it is also worth reflecting on the origins of some of the oldest medieval almshouses, in response to poverty, hunger, leprosy and plague: there is more detail in reports on the Housing LIN Almshouse webpages.
Almshouse charities have much to offer their local communities but their role is not always understood. Written by Jenny Pannell, Alison Pooley and Sally-Anne Francis for the Housing LIN, this Viewpoint explores partnerships, governance and management initiatives with case studies of new almshouse developments and partnerships with local authorities, private developers and a Community Land Trust.
It provides local authorities, commissioners and other professionals with ideas and examples for working with almshouse charities, to meet housing need and complement local strategies for housing, care and support.