ADASS/Home Group Report : Transforming Care – how can progress be improved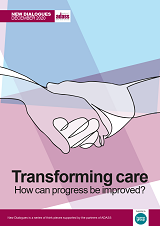 It is nine years since the abuse of people with learning disabilities or autism or both at Winterbourne View came to light. At the time, the Housing LIN signed up to the resultant sector Concordat and committed itself to publish information that support our members to provide good quality care across health, housing and social care. We have continued to do so under our dedicated webpages on housing and learning disability.
This ADASS report, sponsored by Home Group, looks at the challenges in the current Transforming Care system and asks how progress can be made. In particular, it explains that t he government responded to Winterbourne View by pledging that everyone inappropriately placed in institutions would be moved to community settings. However, subsequent targets for progress in achieving this have not been met. Indeed, the latest NHS figures available at the time of writing this report show 2,100 people were still receiving inpatient care commissioned by NHS England at the end of August 2020 and this figure had not improved due to COVID-19.
Drawing on latest policy drivers and examples of commissioning alternative accommodation choices, care and support services, the report shares an ambition for delivering real change. It also cites the Housing LIN's Jeremy Porteus who states: making significant progress on reducing inpatient care relies on "getting the culture right" in local systems so there is a focus on the rights of the individual:
"We need to think beyond what the fabric of the housing is to the other more person-centred issues that need to be put in place," he says. " We need to hard-wire a culture around creating better multi-disciplinary working, but at the same time consider the opportunities to create better spaces and places for people with learning disabilities or autism or both to live, including where technology can play its part."