ACPA – Adapting European Cities to Population Ageing: Policy Challenges and Best Practices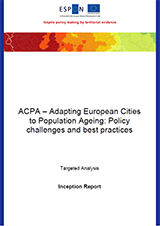 According to Eurostat, the number of people aged 65 and over will almost double from 17% to 30% by 2060, and those aged 80 and over will rise from 5% to 12%.
The eight stakeholders involved in ACPA, Amsterdam, Barcelona, Gothenburg, Hengelo, Greater Manchester, Nantes, Oslo and Zaragoza, have some of the highest percentages (>20%) of older people in their population in Europe, projected to increase to over 30% by 2030. These cities also experience increasing levels of transnational migration, spatial segregation, and pockets of deprivation, which impact on the lives of older people.
Consequently, these cities need to adapt their policies and deliveries to better meet the needs of older residents.
ESPON ACPA will investigate the effectiveness of policies and initiatives to develop age-friendly cities and initiatives that support "ageing in place" in eight cities and city-regions. ACPA's results will directly feed into the adaptation and development of policies and action plans related to age-friendly cities and social programmes including post-2020 cohesion policy.