A shared understanding: Localising the integration of housing and health in Nottingham through a Memorandum of Understanding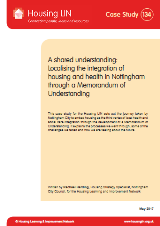 This Housing LIN case study 134 sets out the journey taken by Nottingham City to embed housing as the third vertex of local health and social care integration through the development of a local Memorandum of Understanding.
Drawing on the original (2015) national Memorandum of Understanding (opens new window) to support joint action on improving health through housing, it explains the processes the council went through, some of the challenges they faced and how they are feeling about the future.
If you found this of interest, view the 2018 national MoU here.