A Measure of Success: Evaluation of extra care housing for people with learning disabilities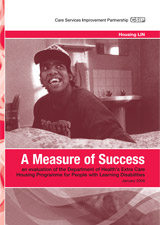 This 2008 Housing LIN report highlights the lessons from 10 projects funded under the then Department of Health's extra care housing fund to provide extra care housing specifically for people with a learning disability.
It should be of interest to those involved in re-modelling services, campus closures or trying to create new provision for older people with a learning disability.
Details are provided abut design, care services, costs, tenancy and lessons learned.