2021 to 2022 Better Care Fund policy framework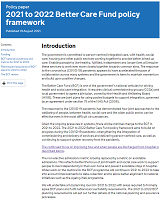 This policy framework sets out the national conditions, metrics and funding arrangements for the Better Care Fund (BCF) in 2021 and 2022, including confirmation of the £573m allocated for Disabled Facilties Grants.
BCF plans are jointly developed by health and social care partners in every area in England and support integrated, person-centred care in communities. This policy framework is intended for use by those responsible for delivering the BCF at a local level (such as CCGs, local authorities, health and wellbeing boards) and NHS England.
The 2021 to 2022 BCF policy framework aims to build on progress during the COVID-19 pandemic, strengthening the integration of commissioning and delivery of services and delivering person-centred care, as well as continuing to support system recovery from the pandemic.
There are four BCF national conditions, including a plan for improving outcomes for people being discharged from hospital that should focus on improvements in the key metrics below:
reducing length of stay in hospital, measured through the percentage of hospital inpatients who have been in hospital for longer than 14 and 21 days
improving the proportion of people discharged home using data on discharge to their usual place of residence
Future iterations of the BCF may require local areas to consider their response to upcoming changes as part of their strategic planning. The framework suggest this could take the form of:
plans to help prevent the need for long-term services and to keep people out of hospital and independent in their own homes for as long as possible.
These plans should describe how Health and Wellbeing Board partners will work with providers to improve the outcome for a range of discharge measures, covering both reductions in the time someone remains in hospital, and effective decision making and integrated community services to maximise a person's independence once they leave hospital.