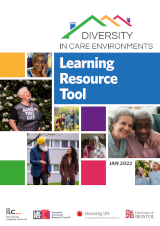 On this page you can find the DICE Project policy report and infographics published by ILC-UK that accompany the learning resource pack.
Other useful resources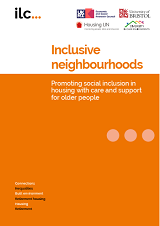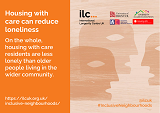 Accompanying Infographics
This set of infographics was designed to accompany the policy report 'Inclusive neighbourhoods - Promoting social inclusion in housing with care and support for older people'.
Acknowledgements
The resources on these webpages are based on findings from the Diversity in Care Environments (DICE) research study, conducted by the University of Bristol, in collaboration with the International Longevity Centre-UK (ILC) and The Housing Learning and Improvement Network.
The study and related resources were funded through a research grant from the UK Economic and Social Research Council (UKRI, grant reference ES/R008604/1), January 2019 to January 2022.