PRP's award winning specialist housing team works with housing associations, charities, local authorities and private developers and work covers all stages of the design process from inception to completion. Specialist projects range from small specialist dementia Care Homes to large Retirement Villages offering a range of tenures.
Windmill Court - HAPPI 2016 winner
Chingford, London Borough of Waltham Forest
Windmill Court is an exemplary extra care housing scheme providing much needed affordable accommodation for older people in Chingford, London, in a state-of-the-art, contemporary and attractive setting.
Introduction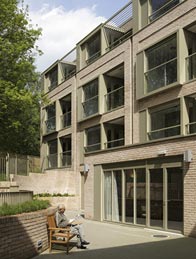 Windmill Court meets and exceeds the original strategic objectives of Circle Housing and LB Waltham Forest in providing a supportive and enabling environment that fosters the independence of older residents in a social setting, tailoring care to suit individual needs.
The new building replaces two out-of-date community centres with 44 generous one and two-bed extra care apartments, all for affordable rent. Communal facilities are specifically designed to meet the needs of the older residents and to maximise their independence for the future and exercise choice in terms of lifestyle.
Award-winning HAPPI design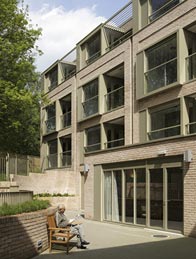 The scheme meets all of the recommendations in the original HAPPI (Housing our Ageing Population Panel for Innovation) Report in a bright, attractive and contemporary way. Dual-aspect apartments with winter gardens and generous balconies are accessed from open deck walkways that overlook the shared landscaped gardens. Large communal spaces including a lounge, salon and activity room provide a vibrant social heart for community interaction. The residents' garden provides an accessible space for outdoor activities and visual amenity from communal spaces and open deck circulation.
At the recent Housing Design Awards, Windmill Court was honoured with a HAPPI award, taking PRP's tally to seven since the HAPPI category's introduction in 2010. The HAPPI award is given to projects that best reflect the recommendations proposed in the original HAPPI Report. Windmill Court was praised for the layout's skill in exploiting access and exposure to panoramic views, as well as the carefully designed recessed entrances that provide dignified thresholds for each home.
"This scheme is a great example of our innovative approach to development. At Windmill Court, our ambition was to create a scheme that doesn't just meet the needs of an ageing population but provides housing that older people will positively aspire to live in, and we are therefore pleased with this recognition."
"For many reasons this was a difficult site, not least its shape and the very significant change in levels, but PRP found an innovative and appropriate design. We are very pleased with the finished product, which is a high quality scheme that maximises the site's potential."
"It's a nice building, with a nice view, nice rooms and no noise. It's the best place I've lived in."