Putting residents at the heart of our new development
At C&C, we believe everyone should live an inspired life and everything we do supports that belief.
Our latest inspirational achievement tracks the progress of the redevelopment of Dora House in St John's Wood, London, and how this is leading the way in raising the later-life living aspirations of our residents, even during the pandemic.
The biggest test
The Covid-19 pandemic has not stopped, or even slowed, progress towards the redevelopment of Dora House, which will rank among the highest-quality affordable homes for the over 55s in London, upon its completion in late 2022.
The new development built in partnership with Regal London, currently referred to as Dora House but with the intention of being renamed by residents, will offer 170 stylish new apartments in an attractive location at the heart of St John's Wood - near to both Lord's Cricket Ground and Regent's Park.
While the original Dora House, which stood for 55 years before its demolition at the start of 2020, offered predominantly outdated small studio apartments for residents in later life, its replacement is a high specification mixed tenure development with larger one and two bedroom apartments, aimed at raising living aspirations for over 55s in London, as also featured in RIBA publication on age-friendly housing design. Exactly 90% of homes will be available at affordable rents.
Co-designing the homes and community
In order to create the best possible redevelopment to fit resident needs, the residents of the old Dora House were invited to help create the vision of its design, playing an integral role in developing the concepts and key features. Our first Inspirational Achievements filmed the initial creation of their vision in a series of Chapter videos.
Residents, some of whom had lived in Dora House for upwards of 30 years, moved to temporarily live in alternative Central and Cecil (C&C) accommodation. Upon completion, these residents will be given priority to move back in.
Placeshaping for residents, by residents
The original building no longer entirely met C&C's, or resident, expectations. Their involvement in placeshaping, shaping their future homes means that those who will be living in the new environment on an everyday basis have had a direct say in its look, feel and nature.
Two of those residents are Lee and David Smith. They cannot wait for the new development to be completed, and recognise it is a marked improvement on the old Dora House.
"We used to have some lovely wine and cheese evenings on the terraces at the old Dora," said Lee. "It was a really sociable place without us feeling like we lived in each other's pockets."
But David acknowledges there were many issues.
"In the laundry area, the washing machines were that close to residents waiting for their washing to finish that you'd have someone else pressed up against you, although to be fair it was moved to a larger area" he says. "Security was a huge issue as well - we had people climbing on the roof and breaking in from time to time. So many bad things can happen as a result of poor security."
Lee and David were among approximately 25 residents who joined the Dora Designers Group (DDG), who worked directly with C&C staff, developers and architects on the creation of the new Dora House. Another member of the group was Barry Mitchell.
"When I first came to Dora House in 2010, I felt it was a real home," said Barry. "But it became clear there were much-needed redevelopment plans afoot. It was a little too easy for complete strangers to access the old building, for one thing."
"I enjoyed the well-attended designer group meetings but didn't manage to contribute any ideas that would have impressed Sir Christopher Wren," added Barry. "I think the way in which Dora has evolved has created a splendid template for future projects of this sort."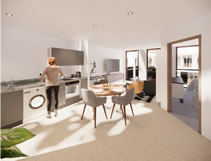 Getting the design right
Kitchen design, bathrooms, garden areas, even the types of paving and planting within the development's communal areas were all looked at in separate meetings, and so residents had the opportunity to have their say on any aspect most important to them. Importantly, changes were made as a direct result of resident feedback.
Deb Thomas, Director of Property and Development at C&C, recognises that the way in which the redevelopment has been designed is a potential blueprint for partnerships between C&C, residents, and developers in the future.
"The residents of Dora House past and present have had their arms across the redevelopment project," she says. "It's not just a case where they have had a voice on selected areas such as furnishings - there's been the opportunity to share opinions across the whole piece and genuinely influence design."
"We focused on the laminated flooring and new kitchen units - those were two areas Barry and I influenced in the new design," adds Lee.
"We're still putting forward ideas now. The garden and roof terrace areas, for example, are going to be absolutely lovely, but we've suggested some spaces for electric BBQs to be installed. We used to live in Australia after all!"
Reimagining affordable housing
Julia Ashley, C&C's Chief Executive, pointed out that the redevelopment isn't simply addressing the shortfall in affordable housing for the over 55s in London, adding: "It also creatively reimagines what affordable housing could look like in the future."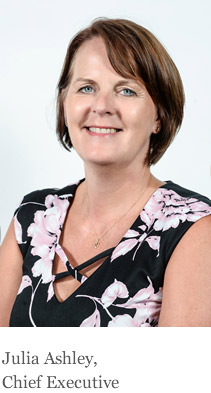 "The new Dora House will set a standard," Julia adds, "not just for C&C but across other housing organisations. It's a building that has been designed by the residents for the residents, and will have a special feel to it. It will provide substantial affordable housing, and also includes features that you would find in market rented modern flats in London."
"We're most looking forward to having our own washing machine this time (no need for the laundry area), the balcony and the double glazing," adds David, who has been living in another C&C property, Ada Court, on a temporary basis since moving out of Dora House.
"I believe we're going to be more connected to other residents in the new layout, and benefit from the video security. If everything goes according to plan, it's going to be a 100% improvement on the old Dora."
Key features of the new Dora House
The high specification development includes:
The use of a state-of-the-art video security system, meaning that residents will be able to use technology to know who is visiting, improving their safety and wellbeing. They will also be able to communicate with each other and with friends and relatives outside the scheme using the technology.
Air source heat pumps will be installed to harness energy from the air to pre-heat water for domestic hot water and heating systems. These will be integrated into building-level heating systems, and provide around 60% of the annual heat demand.
The development will be enabled to provide a future connection to District Heating (DH) network if one becomes available. This will allow the site to reduce carbon emissions from heating and hot water as far as is practically possible.
Solar panels will be installed on the roof, in order to provide additional renewable energy to power communal facilities and help reduce service charges.
The building is based on flexibility and adaptability for future use.
The underground car park will include electric vehicle charging points. A car club will also operate for residents' use.
There will be 17 Disability Discrimination Act (DDA)-compliant parking units with mobility scooter charging points.
The building will have Wi-fi throughout; smart lighting; technology-enabled care solutions for residents to communicate with staff and each other; and fire integration with 24-hour monitoring.
In addition, the site includes plenty of space for residents to relax and keep active thanks to a spacious communal lounge, several gardens (including a roof garden and a winter garden), a dedicated 'activity zone', a café and a salon. As part of its community support work, there will also be three respite and rehab units.
The innovations and efficiencies that the complex provides will, it is hoped, help create a healthy, stress-free environment for residents to enjoy as they head towards and live in retirement.
"We hope these new homes prove to be a template for what affordable housing could look like in the future with the right investment and partners on board," added Julia Ashley. "Above all, we hope that residents will find them a wonderful place to live!"