Windmill House
Fowey, Ocean Housing Ltd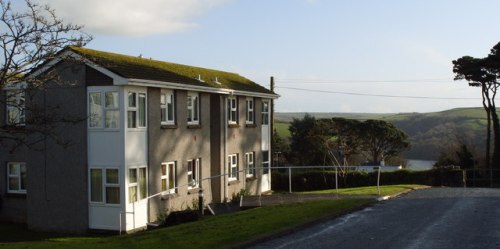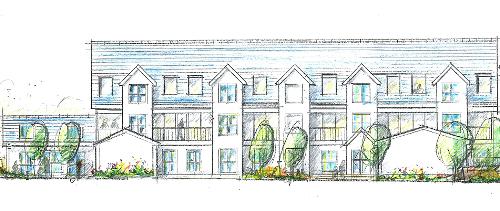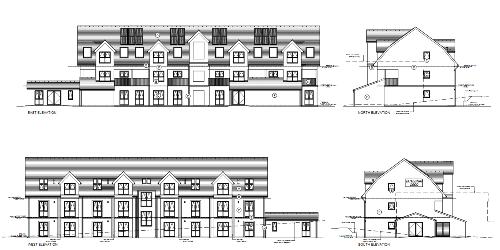 Description of Scheme
Windmill House has been designed to address the HAPPI standards. Individual flats are dual aspect with residents having access to a range of communal areas including a lounge, roof terrace and external courtyard.
Internal finishes will assist the residents in locating themselves in the building through both visual and tactile prompts. Externally, signage and levels have been designed with the older client group in mind. Internally small meeting spaces have been created along corridors which provide views across the country side and encourage social interaction.
Where Is It?
Fowey is a coastal town in South Cornwall. The neighbourhood comprises a residential estate of 1960/70s houses, bungalows and flats, approximately two thirds of which have been sold through right to buy.
Windmill House is also in a suburban area although close to local amenities, as well as two local schools and a recreational ground. The area comprises a mixture of dwelling types, with the character of Fowey adjacent to the immediate area is typically Victorian, reflective of its strong heritage as a fishing port.
Key Information
Location
Fowey
Local Social Services Authority
Cornwall Council
Region
South West
Year Funded
2013
Cost
£2m
DH Fund
CASSH 1
Proximity
adjacent to free local bus offering trips to supermarket (with pharmacy)
100m to bus stop for travel across Cornwall
400m to GP and local shops
600m to hospital
Relevant Local Strategy
Cornwall Council is currently developing a Market Position Statement and Housing Strategy for Older People, meanwhile, the proposed scheme and bid is both consistent with and supports Cornwall Council's Adult Care & Support's local strategic priorities as set out below:
Cornwall Health and Well-being Board Joint Health & Well-being Strategy
2012: This document encourages a shift from dealing with problems to preventing them, to help to reduce health inequalities. Housing, including for older people, is identified as one of the (many) factors that contribute to a good quality of life. The development of good quality housing that meets the needs and aspirations of older people, both for sale and for rent, is an essential component of promoting independence and quality of life and will help to deliver the objectives in the HWBS
Cornwall Council Adult Care & Support's Commissioning Strategy: Wellbeing, Early Intervention and Prevention 2012 - 2015:
This document deals with thecommissioning of services for early intervention and targeted prevention is intended to improve the quality of life of people living in Cornwall including those people who use services, their families and carers. The document seeks to ensure that older people, have access to appropriate housing and the support services that allow them to maintain their accommodation arrangements. Good quality housing with a supportive environment for older people is sought to specifically help people to maintain their independence and wellbeing and reduce the risk of admission to hospital and residential care.
Cornwall Council Adult Care & Support's Commissioning Strategy: Care at Home 2012 - 2015:
This document commissions effective services of the highest possible quality, led by the level of demand and the needs and outcomes of service users within specified resources.
Useful Local Statistics
In 2011 there were estimated to be 119,700 people aged 65 and over in Cornwall (22%). By 2015 these figures are projected to increase by 13.6% to 136,000. Since this scheme will benefit the wider area, of particular relevance is the statistic indicating that by 2028, almost 30% of Cornwall's population will be aged 65 years and over, compared with 21% of England's population (data provided by Cornwall Council).
Facilities
Communal lounge
Kitchen and cloakroom
Communal courtyard/garden
External roof terrace
Key Features
Properties
Tenure
10 rented dwellings and 2 shared-ownership for older persons
Address
Windmill House,
Windmill Road,
Fowey,
PL23 1HA.
Scheme Location Map
Partners
Housing Provider
Ocean Housing Ltd
Architects
Architect Design Group (ADG), Plymouth
Care Provider
Ocean Living
Local Social Services Authority
Cornwall Council
Developer
Ocean Housing Ltd
Contractor
Gilbert and Goode