Weavers' Court Extra Care Scheme
Alnwick, Isos Housing Ltd.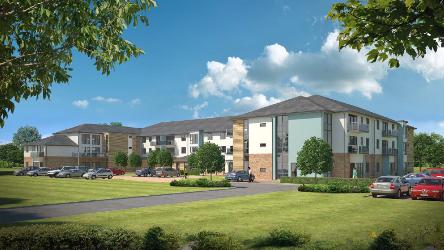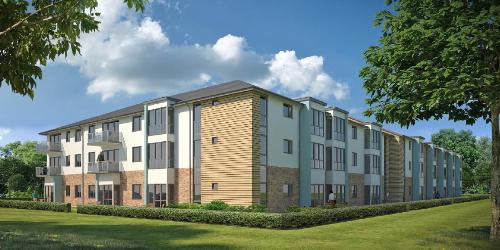 Description of Scheme
The scheme will provide outreach to other older people in the community and a base in north Northumberland for our innovative volunteering project in partnership with 'Ageing Well Northumberland'.
The scheme will encompass a 'local shop' run by older volunteers themselves for the local community, and be a base from which to develop our novel mobile shop project as a social enterprise, which will also provide signposting and advice from our financial and social inclusion team. The scheme restaurant/café will be open to the community and offer choice and independence to older and vulnerable people in the local area by providing a meal delivery service.
Other facilities suitable for GP consultations and therapy will be incorporated as well as suitable accommodation for a care team base.
Where Is It?
Weavers Way is located in a popular residential area in the market town of Alnwick in Northumberland, with good access to local amenities and transport links. Alnwick locality lies in the north of Northumberland and has a population of 20,849.
Key Information
Location
Alnwick
Local Social Services Authority
Northumberland County Council
Region
North East
Year Funded
2013
Cost
£7m
DH Fund
CASSH 1
Proximity
Half a mile away from local shops and pharmacies.
Relevant Local Strategy
The Alnwick District Housing Need Survey demonstrates that growth in the population is only in the older age groups with the 65+ age group showing a significant increase of 5,600 people by 2031. Numbers of people over 75 years of age increases by 3,400 by 2031 and the retired population in total will increase by 81% by 2031.There is an intrinsic link between aging and disability and the survey identified that 61.9% of those with a disability are over the age of 60.
The Alnwick District Housing Need Survey projects that the significant levels of growth in the older population in the future will have a direct impact on the nature of specialist accommodation requirements for older people. The level of need expressed for extra care accommodation was identified as being around 400 units over 3 years to meet the needs of existing households, yet this is likely to increase.
Care Services
There will be a base for a care team on site and a small number of younger residents with mental health problems shall be supported by an Isos specialist Supported Housing Team.
Facilities
The facitilies at Alnwick Extra Care include:
Communal Lounge
Activity Hairdressing
General Office
Managers Office
Staff Change Room
Staff Rest Room
Staff WCs
Cleaners Store
Plant Room
Laundry Room
Treatment Room
Buggy Store
Storage Room
Kitchen (with WC) and Store
Assisted Bathing Ground
First Floor, Flexible Communal Room
Key Features
Properties
58 aparments. 30 1bed. 28 2bed.
Tenure
The scheme will provide 30 flats for sale on the basis of shared equity / shared ownership for the elderly with 28 flats being offered for affordable rent.
Address
Alnwick Extra Care,
Weavers Way,
Alnwick,
Northumberland,
NE66 1BS.
Scheme Location Map
Partners
Housing Provider
Isos Housing Ltd.
Architects
Ian Darbyshire Partnerships
Local Social Services Authority
Northumberland County Council