Waverley Gardens
Bishopsworth, Brunelcare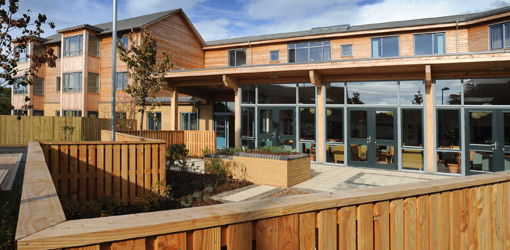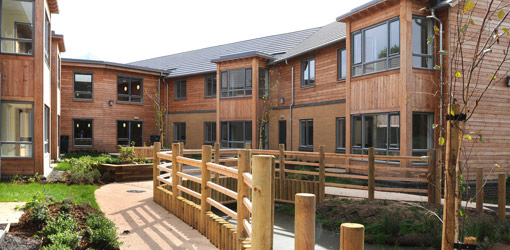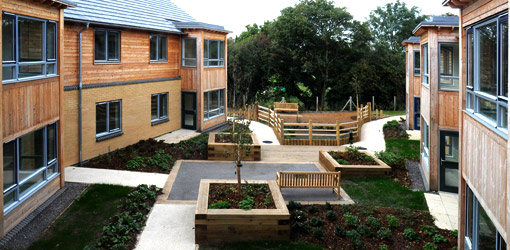 Description of Scheme
Waverley Gardens is an extra care housing scheme owned and operated by Brunelcare, which provides housing, care and support for older people. Opened in September 2009, the scheme consists of 66 apartments with access to on-site amenities including a restaurant, hairdresser and spa, as well as 24-hour care as required.
The design of the building has taken account of environmental issues by investing in substantial insulation, using sustainable materials, and making the building as future proof as possible. One apartment within the scheme will be equipped with assistive technologies for tenants and local older people to try out, with the aim of establishing which might be appropriate for their own accommodation. All areas of the scheme are accessible to wheelchair users and each apartment is provided with a parking bay for a mobility scooter/buggy.
Each corridor has been made as distinctive as possible to reduce the likelihood of tenants getting lost - each hallway is a different colour, with a different item of furniture at its end.
Within rooms, walls are painted in contrasting colours to make it easier for people with diminishing vision to see where one wall stops and another starts. All the flats have level access showers and the corridors are wide enough to allow two mobility scooters to pass comfortably. And, while the gardens offer a variety of routes to walk through, there are no dead ends.
Where Is It?
A post war council estate on the fridge of Bristol (with poor transport links to other neighbourhoods). Mainly built in the 1950's and 1960's to house workers of the Wills Imperial Tobacco factory. There are also significant areas of industrial /former industrial sites in various stages of redevelopment. (The closure of the Will's tobacco factory impacted on the viability and subsequent closure of a range associated industries across this neighbourhood).
Residents Information
Eileen:
'Waverley Gardens has been my home since April 2013. I am happy now as the scheme has a nice atmosphere and the staff are fantastic and professional. I feel I can maintain both a friendly and professional relationship with them.
The facilities including: a shop, hairdresser and restaurant are great. We are provided with delicious meals that are always fresh. If you don't like something on the menu you can just ask for something different and they will change it for you! There are lots of social activities like Karaoke nights, coffee mornings and even outings are arranged, which are always lovely.
The rooms are great, big enough for me! If we have any problems there is a handyman available which I find really useful. I love it here, this is my home, this is my family.'
Margaret:
'I have been here for 2 years and love it. I find it hard to get around physically but the lift makes it very easy for me. I also have carers who can wash me as am I unable to do it myself, which I really value. The flats are really attractive and I am more than happy with the space I have within them.
Furthermore, I also think the facilities here are really great. Especially the restaurant which provides a good range of food and the chefs are outstanding.'
Key Information
Location
Bishopsworth
Local Social Services Authority
Bristol
Region
South West
Year Funded
2006/7
Cost
£11m
DH Fund
ECH
Awards
Gold Building for Life award
'Best Extra Care Housing Scheme in the UK- 2011' at the EAC, Housing for Older People Awards
EAC Quality of Information Mark
Yes
Proximity
Access to site easy, but less so for less mobile people. Distances: bus stop 0.25 mile(s); shop 0.25 mile(s); post office 0.25 mile(s); town centre 4 mile(s); GP 0.25 mile(s); social centre 0.5 mile(s).
Relevant Local Strategy
Bristol does not currently have a separate housing strategy for older people - instead having a Quality of Life for Older People in Bristol Strategy which includes housing issues.
Bristol also has a detailed strategy and vision for extra care provision ( known as Very Sheltered Housing in Bristol) with a target of 600 new very sheltered housing flats by 2011. This development is part of the overall VSH strategy and vision in Bristol.
Useful Local Statistics
The area has a steeply rising older population and a high prevalence of heart and lung disease. It is one of the most deprived areas in England and is an area designated for neighbourhood renewal and regeneration.
An integral part of Bristol's vision for extra care housing is to achieve a good geographical spread of schemes citywide in areas of high need. This site presented an ideal opportunity to provide a scheme in the south west of the city within a target neighbourhood.
Care Services
Very Sheltered scheme with on-site care staff (24 hours / 7 days), non-resident management staff and community alarm service
Facilities
Lift, lounge, restaurant, laundry, guest facilities, garden, cafe, shop, hairdressing salon, jacuzzi, library
Key Features
Properties
66 flats. Sizes 1bed, 2bed. Built in 2009.
Tenure
Rent (social landlord) and Shared Ownership
Plans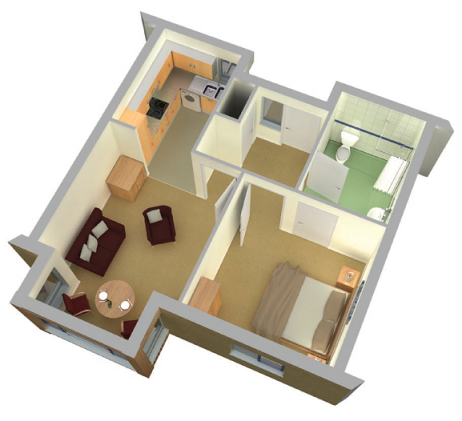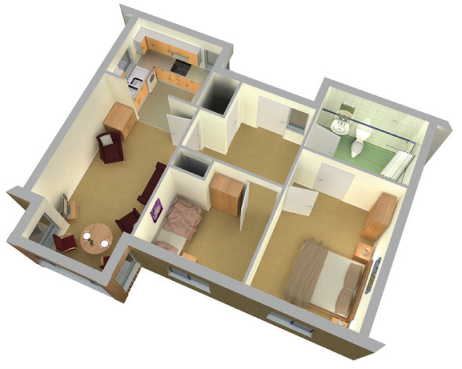 Address
Queens Road
Bishopsworth
Bristol
BS13 8EL
Scheme Location Map
Partners
Housing Provider
Brunelcare
Architects
noma
Care Provider
Brunelcare
Local Social Services Authority
Bristol
Developer
Leadbitter
Contractor
Leadbitter