Village 135
Wythenshawe , Willow Park Housing Trust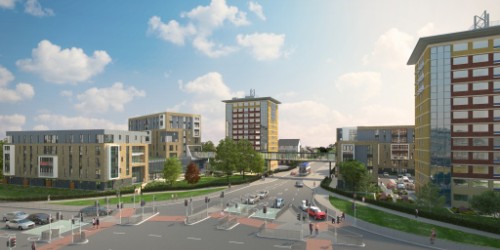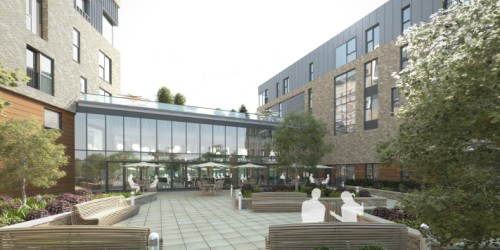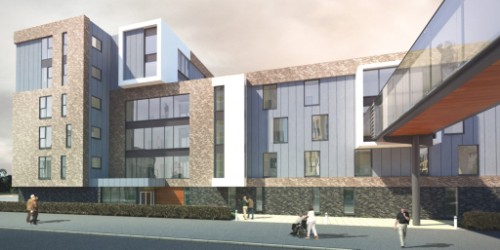 Description of Scheme
Village 135 will provide 135 much-needed homes for older people, with an anticipated completion by July 2016. These new modern, energy efficient homes will provide a mix of 66 apartments for affordable rent, 39 apartments for shared ownership and 30 apartments for outright sale.
It will be a 2 storey communal hub with residential blocks which are a mix of 4, 5, 6 & 8 storeys and is either side of Hollyhedge Road and served by a connecting footbridge.
Consultation with local people has taken place so that they are aware of this new development and the fantastic resources it will bring for local people to enjoy. The Community Hub with a café/Bistro will provide a focal point for scheme residents and the local community and the development will be set in landscaped sensory gardens. The scheme has been designed to achieve full mobility and access under Lifetime Homes for all residents ensuring the living spaces are flexible in design and are a generous size to meet the needs of the residents.
The scheme is adjacent to 3 multi storey tower blocks which currently are age restricted to the over 55's. The facilities of the hub will be open to them and the rest of the community. Manchester College is also adjacent and it is hoped that students will be able to get work experience in the scheme and employment opportunities on completion of their courses.
Village 135 is to be built to meet the Happi criteria in full, apartments to Lifetime Home standards, scheme to meet secure by Design requirements and BREEAM Very Good. Two storey high communal hub at the centre of the scheme and linked to the rest of the scheme by a footbridge. Currently investigating with the NHS the possibility of telecare links to the hospital.
Where Is It?
This development is situated on a former Council estate built between the 1920's and 1960's in the southern district of Wythenshawe, Manchester on the junction of Brownley Road and Hollyhedge Road.
Key Information
Location
Wythenshawe
Local Social Services Authority
Manchester City Council
Region
North West
Year Funded
2013
Cost
Total: £20m Grant: £5.19m
DH Fund
CASSH 1
Proximity
The scheme is adjacent to a Health Centre and local shops which include a post office, 3 pharmacies, 2 bakeries, newsagent/convenience store (McColls), ASDA and 2 local supermarkets (Premier & Costcutter) plus cafes and fast food shops. There are regular bus services and the new Metrolink Tram with have a stop adjacent to the scheme which will connect the scheme with Wythenshawe Town Centre, Wythenshawe Hospital, Manchester Airport as well as the rest of Wythenshawe, South Manchester and the City Centre.
Care Services
These purpose- built homes will ensure a high quality of life for older people by providing an on-site 24 hour care team and a range of facilities specifically catering for their needs. Residents will be able to live independent lives in their own 2 bedroom apartments and access the level of care necessary for needs, which can be adapted as needs change.
The high quality facilities and extra care provision on site will enable older people to maintain their independence for longer, a key aim for most people.
Facilities
Facilities within the scheme include:
On site care team with 24 hour presence
Bistro/Restaurant
Hair & Beauty Salon
Spa Bathroom
Guest rooms
Laundry
2 Multi purpose rooms
Garden room
Sun rooms
Roof garden and landscaped grounds
Patio areas
Bridge link between buildings
Key Features
Properties
Tenure
66 affordable rent
39 shared ownership
30 outright sale
Address
Hollyhedge Road,
Wythenshawe,
Manchester,
M22 4QP.
Scheme Location Map
Partners
Housing Provider
Willow Park Housing Trust
Architects
Pozzoni Design
Care Provider
To be appointed by Manchester City Council
Local Social Services Authority
Manchester City Council
Developer
Willow Park Housing Trust
Contractor
TBA