Sutton Court Road (tbc)
Chiswick, One Housing Group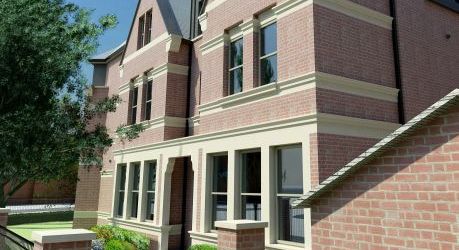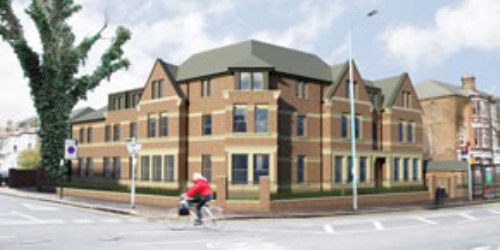 Description of Scheme
The proposed design and layout of accommodation is HAPPI compliant and optimises both independence and care delivery. The dwellings exceed the minimum space standards set by the Mayor's London Housing Design Guide, in recognition of needing to meet the space requirements of elderly and disabled residents; not only to allow for easy manoeuvrability, useable storage areas and comfort for visitors but also because residents may spend much of their time in their homes and their immediate environment.
The scheme recognises that residents' needs change over time and that homes need to be flexible to accommodate this change as seamlessly as possible e.g. bathroom layouts and construction that allow for conversion to wet rooms; facility for installing overhead hoisting from the bedroom to the bathroom if required; and knock-out panels in partition walls, with the option for sliding panels to allow for an open plan layout in future.
All dwellings meet Lifetime Homes standards and the scheme has been designed with the Building for Life principles. The layout maximises the orientation of the site and ensures that all dwellings and shared spaces are naturally lit and have a good aspect. All bedroom and living room windows have low sills. The shared circulation spaces are naturally lit and have a direct connection to the surrounding landscaped gardens. Each dwelling has its own large private balcony or patio garden that is accessed from the living room or bedroom. Their positioning allows residents to view the shared landscaped gardens and the streets beyond to connect with the wider community. They are designed to be adaptable and will be fitted out to suit the needs of the particular resident.
Support facilities are provided in the building to give the necessary care as required. The circulation space connects and includes all residents and provides a place to meet - a positive place for the community. From the entrance foyer, a short wide corridor links the two wings of the building. Each floor has windows overlooking the communal gardens and a seating area is provided by the entrance to the building. The staircases have windows to the street frontage and the lift is located in a central place.
The building provides spaces to be both alone and together. Centrally located at the internal corner of the building is the conservatory / lounge, off the foyer area and with direct access to the communal garden. The room is the social hub for both residents and visitors. The circulation spaces have full height windows overlooking the gardens and are generously designed with sufficient width for social meetings between residents. The layout of the building and its positioning on the site has been fully informed by the intention to retain and make best use of the large number of mature trees on the site, which give a degree of natural privacy to the residents. This natural environment provides a variety of communal garden spaces, a paved and enclosed area to the north of and also a more open yet still secluded space laid to lawn.
The building will be designed to meet Code 4 of the Code for Sustainable Homes. The building is orientated and roofs will be designed to maximise the potential for PV panels to provide an element of renewable energy. A SUDS solution will be investigated to reduce surface water run-off, with rainwater also stored in butts for garden irrigation, and grey water recycling will be explored. The building fabric, acoustic performance and air tightness will exceed building regulation requirements. Materials used in the building and the surfaces surrounding it will be A-rated and re-use recycled materials from the existing site wherever possible. The dwellings have been designed with significant spaces for storage, both of treasured possessions and furniture as well as practical items and wheelchairs. A communal external storage room has access for cycles and space for storage lockers available to residents with additional storage needs. The external routes and spaces around the building will be designed with pedestrian and wheelchair/buggy priority. An existing dropped kerb to the west of the site gives access to two parking spaces of a size suitable for wheelchair users.
OHG recognises the particular value in utilising volunteers in our older people's services to maintain health and wellbeing and optimise social inclusion and social interaction. We encourage customers to play an active role in their community and encourage the community to play an active role in our schemes through volunteering.
Where Is It?
This scheme is situated in Chiswick in the west of London in the London Borough of Hounslow. This scheme is set on a corner plot at the edge of a conservation area. The buildings surrounding the scheme are residential and predominantly large family homes constructed in the late Victorian and Edwardian era. There are also more modern dwellings from the 1960s and 1970s opposite the scheme.
Key Information
Location
Chiswick
Local Social Services Authority
London Borough of Hounslow
Region
London
Year Funded
2013
Cost
£4.6m (total)
DH Fund
CASSH 1
Proximity
Sutton Court Road is very well located with close proximity to shops, transport and community facilities. Older residents will be supported and encouraged to optimise use of mainstream services including GPs, libraries, bowling clubs as well as specialist services for older people e.g. day centres, social club.
The scheme has a bus stop immediately outside the building for the E3 and 273 bus and Chiswick Railway station is about 5 minutes away by bus. There is a post box opposite and a small supermarket a couple of minutes' walk from the scheme. At the bottom of Sutton Court Rd, Heathfield Terrace has shops, Turnham Green Church and Turnham Green. The nearest GP surgery is Grove Park Terrace which would be approximately 10 minutes distance from the scheme.
Care Services
It is anticipated that many older people choosing to purchase private specialised retirement housing at Sutton Court Road will have existing or future care and support needs. One Housing Group is a CQC registered provider of personal care services within extra care services across London and will offer a personally tailored menu of care services available for residents. One Housing Group is also a member of Associated Retirement Community Operators (ARCO) and all onsite services will also be fully compliant ARCO's charter.
The scheme is being developed under the Mayor's Specialist Housing Fund Phase 2, which is aimed at the private retirement market for older people. Consideration has been given to the design to ensure that it is 'dementia friendly'.
Facilities
As part of our Senior Plus housing and facilities management offer for older people we provide additional menu services such as cleaning or handyperson which can be purchased on an individual basis. As part of our commitment to excellence across all older people's service we have introduced a successful 'dementia friends' programme which includes training all care, housing and facilities staff.
We recognise that a key driver to encourage older people to choose private specialised housing is living alongside other older people and enjoying a lifestyle focussed offer and services. The provision of the communal Sun Room will provide an ideal space for social activities that are both self-directed and facilitated by One Housing Group.
Key Features
Properties
9 Apartments
3 x 1 bed
6 x 2 bed
Tenure
Private Retirement Sale
Address
Sutton Court Road,
Chiswick,
London,
W4 4NN
Scheme Location Map
Partners
Housing Provider
One Housing Group
Architects
Peter Taylor Architects
Care Provider
One Housing Group
Local Social Services Authority
London Borough of Hounslow
Developer
One Housing Group