Queens Road
Shipley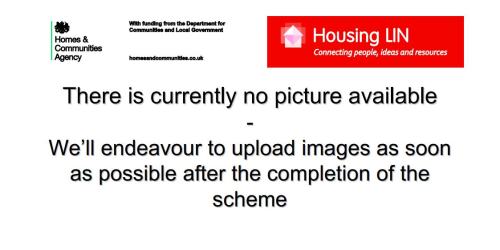 Description of Scheme
The scheme provides 45 extra care apartments and 20 Intermediate Care en-suite bedrooms for the elderly with associated communal spaces, such as a restaurant, lounge, activity rooms, assisted bathroom etc.
The scheme will comply with the following:
HAPPI criteria
Housing Quality Indicators
Wheelchair Housing Design Guide
Lifetime Homes
BREEAM MR Very Good
Building for Life
Secured by Design
Where Is It?
The development is separated from the Saltaire World Heritage Site by Bingley Road. To the east, south and west of the site is housing, consisting mainly of stone terraces. To the north are the rear elevations of a parade of shops and a car park, which serves those shops.
Key Information
Location
Shipley
Local Social Services Authority
City of Bradford Metropolitan District Council
Region
Yorks & Humber
Year Funded
2013
Cost
£10m
DH Fund
CASSH 1
Proximity
The scheme has excellent access to local amenities within half a mile radius.
Relevant Local Strategy
Bradford has developed a Housing Strategy for the Over 50s - 'Great Places to Grow Old'. Our vision in that Strategy is for everyone aged over 50 in Bradford to have a choice of high quality, accessible and practical housing options. This will be delivered through a combination of private sector development and public sector creativity. The main objectives of the strategy are to give older people and those approaching older age, desirable and affordable options and assistance, so they can choose to move into suitable housing. It is also important to ensure that our housing stock is sustainable in the long term.
In order to achieve these aims we will look to provide new housing, much of it affordable, to meet the demands of a growing population and improve the quality of existing housing stock, which will enhance the quality of neighbourhoods and ensure that vulnerable sections of the community are helped to maintain a home and achieve independent living.
Click here to view the strategy in full.
Useful Local Statistics
In 2007 there were an estimated 150,000 people aged over 50 living in the district. In general, healthier lifestyles and better living conditions mean people are living longer and by 2030 it is expected that the number of people over the age of 50 in the district will have risen to 196,000.
By 2020 we can expect to have an extra 13,600 people aged 50-64, an extra 11,900 people aged 65-84 and 3,600 more aged over 85 years. To match this population growth we have estimated a 31% increase in specialist housing provision in the next 20 years.
Facilities
The scheme will provide:
Intermediate Care therapy room and rehabilitation kitchen,
Buggy Store,
2 activity rooms,
Café/Restaurant,
Assisted Bathroom,
Consulting Room,
Laundry,
Lounge,
External patio areas,
Communal garden,
Allotments,
Residents' private garden areas.
Key Features
Properties
45 apartments. 21 1bed, 24 2bed.
20 Intermediate Care en-suite bedrooms.
Tenure
All units will be available for social rent.
Address
Queens Rd,
Shipley,
West Yorkshire,
BD18 4SJ.
Scheme Location Map
Partners
Architects
West and Machell Ltd.
Local Social Services Authority
City of Bradford Metropolitan District Council
Developer
City of Bradford Metropolitan District Council