Parsonage Lane
Enfield, LB Enfield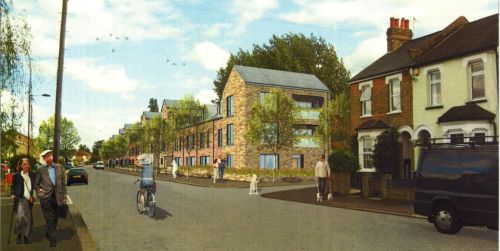 Description of Scheme
Redevelopment of this vacant brownfield site, close to the town centre, will involve the construction of four code level 4 brick built residential terraces 2.5 storeys in height with 3 storey bespoke end units to provide 29 new homes within a high quality residential scheme. Off street parking spaces/or car club membership, associated landscaping and amenity space will be provided.
Where Is It?
The Parsonage Lane scheme is to be located in north London in the borough of Enfield. Its surroundings consist of a largely 1930's 2/2.5 storey terraced family housing in a predominantly private residential area.
Key Information
Location
Enfield
Local Social Services Authority
London Borough of Enfield
Region
National, London
Year Funded
2013
Cost
Together with Jasper Close £950,000
DH Fund
CASSH 1
Proximity
Parsonage Lane is very well connected being only 0.5 miles from the town centre, close to Enfield Chase Station and the GP's surgery is only round the corner.
Relevant Local Strategy
The local authority has a market position statement that is currently under revision. A housing strategy for older people is in development and the SHOP tool is being used to inform future need analysis, including the provision extra care housing in the borough.
Care Services
Parsonage Lane will provide wheelchair accessible home ownership opportunities for people with physical and/or learning disabilities in addition to people with mental health support needs.
Key Features
Properties
29 new homes.
6 x 2 bedroom flats (2 wheel chair adapted for shared ownership)
6 x 2 bedroom houses
8 x 3 bedroom houses
9 x 4 bedroom houses
Tenure
24 for private rent
3 for shared ownership
2 for social rent
The 2 x two bedroom ground floor wheelchair adapted apartments will be for shared ownership as will 1 of the family homes. 2 of the apartments will be for social rent. The remaining 2 apartments and 22 family houses will be for private purchase.
Address
Parsonage Ln,
Enfield,
Greater London,
EN2 0AG
Scheme Location Map
Partners
Housing Provider
LB Enfield
Architects
HTA
Local Social Services Authority
London Borough of Enfield
Developer
Kier
Contractor
Climate Energy Homes