Newman Court
Basingstoke, Saxon Weald Homes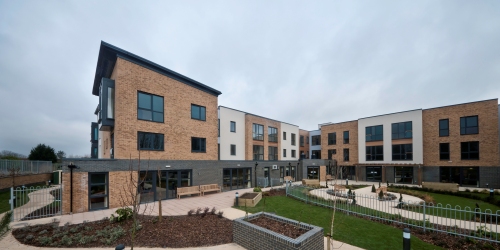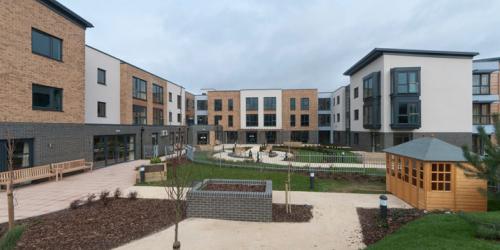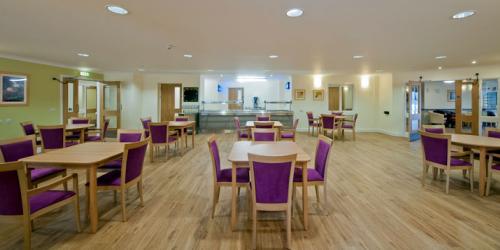 Description of Scheme
Apartments are generously sized and have been designed to make the most of natural daylight. A number of the ground floor apartments feature French doors leading onto private patio areas and all properties have an emergency call system.
The modern fitted kitchens come complete with an eye-level built in oven, as well as fitted hob and extractor fan, and bathrooms are en suite and feature level access showers, together with grab rails and slip resistant vinyl flooring.
CCTV at the front door is linked to the residents' TVs; this enables them to see who is visiting them and they can then give access via their remote door entry.
Telecare products can be added to the system to meet individual needs e.g. fall detectors, flood detectors.
Sprinkler system and fire/smoke detectors throughout the scheme.
Older people from the local community are encouraged to use the restaurant facilities and join in with social functions and the scheme is to be used as a base for community outreach services. A day care centre is connected to the scheme - clients are frail elderly and people with dementia.
The age criteria for the scheme is 55+ and care needs of residents vary - some have high complex needs that are met through the on site care team.
Where Is It?
Basingstoke is a modern thriving town in north east Hampshire. It has excellent transport links by road and rail. High quality healthcare is offered by the town's NHS Foundation Trust hospital.
Brighton Hill is situated three miles to the south of the town centre. There is an excellent range of shops and amenities within easy reach of Newman Court.
Residents Information
"Life would be unsupportable if I wasn't here."
That's what Nicky Hedges thinks about her home in Newman Court, Basingstoke, one of four current Extra Care housing developments in Hampshire.
Former teacher Nicky (83) has arthritis and uses a wheelchair to get around. Moving from a bungalow in Basingstoke into a brand new two bedroom flat in Newman Court in April 2012, Nicky still can't believe how lucky she is.
"When I saw my specialist doctor at the hospital, she was concerned about me living alone. My family are all scattered and I had a friend who moved into a similar scheme in Bristol last year. I stayed there for a week as a guest and thought 'in my position, that's for me.' It just seemed a sensible thing to do and I wanted to make the move - as well as a life for myself - before things got worse.
"I came to all three open days at Newman Court, looked around and fell in love with the flat immediately. My doctor wrote a letter and I was thrilled to be offered my new home. I was so excited, I started measuring up and telling everyone my new address."
Nicky says she is sure she has made the right choice. "I can stay in my wheelchair all day if I want to as the facilities are so well designed. The staff are angelic and I have a main meal every day in the restaurant. Maybe you have to give up a tiny bit of your independence, but for me it's definitely worth it."
Key Information
Location
Basingstoke
Local Social Services Authority
Hampshire
Region
National, South East
Cost
£10m
DH Fund
ECH
Proximity
Supermarket, healthcare centre, chemist, food outlets and more are within easy walking distance from the scheme (approx. 300 metres).
Relevant Local Strategy
In Hampshire there is a partnership between Hampshire County Council, the eleven Hampshire Districts, and Health commissioners, entitled The Partnership for Extra Care Housing in Hampshire, which aims to deliver Extra Care Housing development ambitions.
"The partnership's aim is to develop the highest quality Extra Care sheltered housing, comparable with any in the country in order to enhance and improve choice for all Hampshire residents. The partnership will work with other stakeholders to secure capital funding from sources such as Department of Health and the new Homes and Communities Agency to enable the development of these new schemes.
By working together to develop Extra Care sheltered housing, the partnership intends to set the standard for Extra Care housing within Hampshire. Partnership led initiatives will also promote the independent development of additional provision by the signalling of a clear commissioning intent for the future.
There will be choice in the range of options available to older people and provision will be judged by the extent to which it reflects best practice and high quality."
Useful Local Statistics
Hampshire faces a demographic challenge in the coming decades with a substantial rise forecast in its' older population. By 2012 it is anticipated that the 85+ age group will rise by 23.4%. This generation of older people expect choice and the opportunity to adopt a positive lifestyle in their old age. Integral to this is the desire to live in their own homes for as long as possible.
This increase in the number of individuals attaining advanced old age means there will also be a steep rise in the number of those suffering the range of chronic conditions associated with advanced old age, such as reduced mobility, mental confusion and a reduction in the capacity for independent living. People will require appropriate accommodation, support and care if their independence, quality of life and wellbeing are to be preserved.
Facilities
Lift
Lounge
Dining room / restaurant
Laundry
Guest facilities
Landscaped gardens
Activities room
Shop
Hairdressing salon
Assisted bathing facilities
Mobility scooter store
IT areas for residents use
Key Features
Properties
65 flats. Built in 2012. Sizes 1 bedroom, 2 bedroom.
Tenure
Shared equity 30 x 2 bed flats.
Social rent 34 - 16 x 1 bed, 18 x 2 bed.
Address
Newman Court
Barber Road
Basingstoke
Hampshire
RG22 4HQ
Scheme Location Map
Partners
Housing Provider
Saxon Weald Homes
Architects
PRP
Care Provider
Sanctuary Health Care
Local Social Services Authority
Hampshire
Developer
Saxon Weald Homes
Contractor
Castleoak