Jasper Close
Enfield, LB Enfield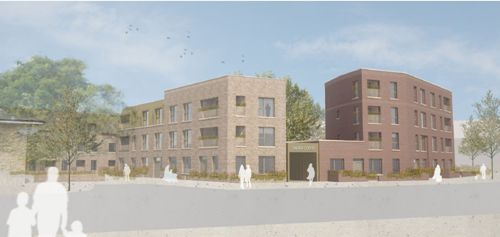 Description of Scheme
Redevelopment of this vacant brownfield site will construct 18 new homes within 3 residential buildings between 3 & 4 storeys high. Appropriate in size, scale and design to the mix of surrounding buildings. The 3 and 4 storey code level 4 brick buildings will define the two corner junctions along Hertford Rd at Hoe Ln and the entrance of Jasper Close respectively, providing a focal point when viewed from the surrounding area. To the rear of Jasper Close a small 3 storey residential terrace comprising of 4 family sized homes will introduce a family character to this high quality mews development. Off street car parking spaces, associated landscaping and amenity space will be provided.
Where Is It?
Jasper Close is to be locate in north London in the borough of Enfield. It's surroundings include an eclectic mix of properties situated in a predominantly local authority area.
Key Information
Location
Enfield
Local Social Services Authority
London Borough of Enfield
Region
National, London
Year Funded
2013
Cost
Together with Parsonage Lane £950,000
DH Fund
CASSH 1
Proximity
Jasper Close is well served by the main bus route along Hertford Rd, close to Turkey Street station and the shops, GP and pharmacist are on the door step.
Relevant Local Strategy
The local authority has a market position statement that is currently under revision. A housing strategy for older people is in development and the SHOP tool is being used to inform future need analysis, including the provision extra care housing in the borough.
Care Services
Jasper Close will provide wheelchair accessible accommodation including family sized homes for people with physical disabilities and their families.
Key Features
Properties
18 new homes within three residential buildings
1 x 1 bedroom flat
8 x 2 bedroom flats
4 x 3 bedroom flats
1 x 3 bedroom maisonette
2 x 3 bedroom houses
2 x 4 bedroom houses
Tenure
8 of the 18 dwellings will be for social rent with the remaining 10 properties being sold on a shared equity basis.
The 3 x two bedroom and 1 x three bedroom ground floor wheelchair adapted apartments will be for social rent as will the 4 family houses.
Address
Jasper Cl,
Enfield,
Greater London,
EN3 5QG
Scheme Location Map
Partners
Housing Provider
LB Enfield
Architects
HTA
Local Social Services Authority
London Borough of Enfield
Developer
Kier
Contractor
Climate Energy Homes