Hughenden Village
High Wycombe, The ExtraCare Charitable Trust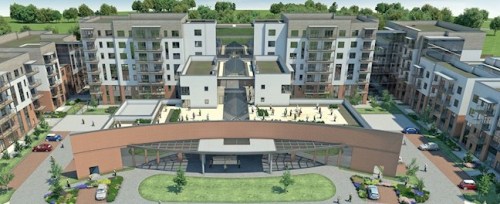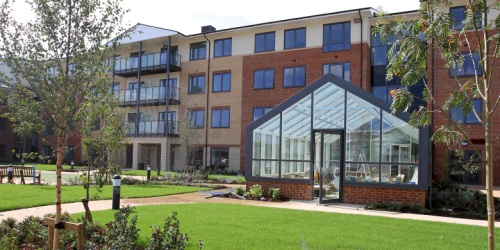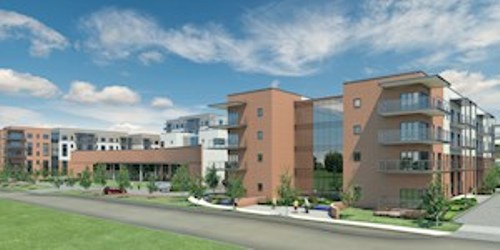 Description of Scheme
This scheme will consist of 260 one and two bedroom apartments, each with hallway, kitchen, living room and shower room, will surround a host of health and leisure facilities and landscaped gardens.
The HAPPI criteria is used for our designs. The scheme aspires to link into the Hughenden Quarters envisaged future district heating system and will be built to achieve BREEAM and Code For Sustainable Homes eco-assessment standards. It will incorporate best practice low carbon CHP heating system and green roofing. The proposed development will achieve Secured by Design accreditation.
Construction anticipated in 2015 with the village opening in 2017.
Where Is It?
The Hughenden area of High Wycombe is to the north of the town, approximately two miles from Junction 4 of the M40. High Wycombe Railway station is approximately 1km to the south east of the site. It sits alongside a small stream, recently constructed student accommodation, and open land to the rear which has planning approval for Business Units It is a brown field site within walking distance of the centre of High Wycombe with buildings ranging from 2 storeys to 7 storeys, and residential/commercial use.
Key Information
Location
High Wycombe
Local Social Services Authority
Wycombe District Council
Region
South East
Year Funded
2013
Cost
£8,357,217
DH Fund
CASSH 1
Proximity
The village will be close to supermarket and local shops.
Care Services
We will have our own Enriched Opportunities Locksmith working with clients in early on set dementia.
Facilities
The scheme will provide:
A Village Hall,
IT Suite,
Enriched Activity Room,
Greenhouse,
Gardens,
Laundry,
Lifts,
Lounge and Dining areas,
Library,
Hairdresser,
Shop,
Gymnasium,
Hobby Room,
Craft Room,
Activities Hall,
Social Bar.
Key Features
Properties
260 Apartments
1bed & 2bed

Tenure
52 Affordable Rent
104 Shared Ownership
104 Outright Sale
Address
Hughenden Avenue,
High Wycombe,
Buckinghamshire,
HP13 5HP.
Scheme Location Map
Partners
Housing Provider
The ExtraCare Charitable Trust
Architects
Nicol Thomas
Care Provider
Buckinghamshire County Council
Local Social Services Authority
Wycombe District Council
Developer
The ExtraCare Charitable Trust
Contractor
GallifordTry