Haworth Court
Yeadon, Leeds City Council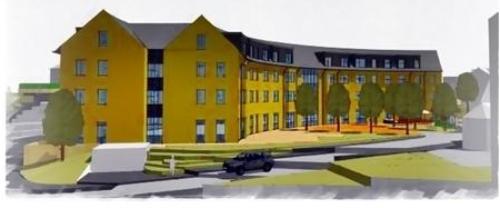 Description of Scheme
The scheme which is at initial design stage has been reviewed using the Leeds Model of Extra Care Housing. With a high specification of rooms and flexibility of multi-use communal areas, the scheme will be well positioned to adapt to the changing needs and demands of future generations.
We have worked hard to make sure that there are no "institutional" aspects, by incorporating the following HAPPI design principles:
space and flexibility,
daylight in the home and in shared spaces,
balconies and outdoor space,
adaptability and "care ready" design,
positive use of circulation space,
share facilities and hubs,
plants, trees and the natural environment,
energy efficiency and sustainable design,
external shared surfaces and "home zones".
Where Is It?
The site is located within a conservation area (Character Area 5, St Andrews) in the town of Yeadon, positioned to the north east of the town centre, just off Yeadon Town Street. There are council (circa 1960s) and housing association (circa 1980/90s) bungalows surrounding the site which is opposite a local authority run care home that has permanent residents and planned intermediate care beds. Several stone-built terraces are also in close proximity.
Key Information
Location
Yeadon
Local Social Services Authority
Leeds City Council
Region
Yorks & Humber
Year Funded
2013
Cost
£7,348,407
DH Fund
CASSH 1
Proximity
The Haworth Court site is situated in close proximity to Yeadon Town Centre. Close by amenities include:
Morrisons Supermarket, located on Yeadon High Street, 0.1 miles from Haworth Court,
Three pharmacies in the area including:
Lloyds, which is part of a GP surgery,
Yeadon Tarn Medical Practice, at 1 Suffolk Court, Silver Lane. This is 330ft from Haworth Court,
Co-op Pharmacy is situated on Yeadon High Street, 464ft from Haworth Court.
Furthermore:
on the High Street is another Lloyds Pharmacy 0.1 miles from Haworth Court,
a second GP surgery, Guiseley and Yeadon Medical practice, at 17 South View Rd, 0.1 miles from Haworth Court,
the local Post office is just 0.2 miles from Haworth Court on Cliffe Court.
Relevant Local Strategy
The Leeds City Council Housing Market Position Statement 2012 has identified three priorities for Adult Health and Social Care including 'Better lives through housing, care and support.' "Adult Social Care will work with other council directorates, private house-builders and developers, social housing providers and community, voluntary, faith and enterprise organisations. We will create a mosaic of types of housing (including residential and extra care), with care and support".
Click here for Leeds City Council's Housing Market Position Statement.
An older person specific Housing Market Position will be published in 2014. This will include current supply and demand data derived from the Leeds Model of demand which has been established to enable a realistic picture to emerge of the increasing need for specialist housing with care in Leeds. An analysis of demand up to 2020 has been completed that utilises demographics and demand forecasting methodology down to ward level along with health and socio-economic data to guide the appropriate level of development of specialist housing and care in areas of undersupply.
Useful Local Statistics
The Index of Multiple Deprivation state that there is a higher than average over 60 population (27%) in the area surrounding Haworth Court compared with 20% for Leeds as a whole and although Yeadon is generally perceived as a fairly affluent area in comparison to other areas in the city, the over 60 population in the are relatively poor, with 44% claiming Pension Credit, compared 27% for Leeds as a whole. Of all the households in the surrounding area, 38% have a limiting long term illness, compared with 17% for Leeds as a whole. With regards to affordability of older peoples housing provision, this area falls within the top 20% deprived areas for 'income deprivation affecting Older People'.
Care Services
There will be 24-hour onsite care.
Facilities
The facilities are designed to enhance the quality of life of residents by promoting independence and providing preventative care. A range of activities will be provided in the communal facilities, most of which will be accessible to the local community. The facilities provided (subject to refining final scheme costs) include:
Catering Kitchen and restaurant,
Large communal lounge and smaller communal meeting/activity room for multi-use activities such as small group work and health and fitness,
Informal meeting areas,
Assisted bathing facilities and hairdressing within a spa suite,
Communal and staff use laundry,
Guest room with ensuite facilities,
Disability scooter storage area,
Staff accommodation, including Management Office, Staff Changing Room, Rest Room for 24 hour on site care,
Gardens and car parking.
Key Features
Properties
45 apartments. 18 1bed, 27 2bed.
Tenure
10 of the flats will be marketed as shared ownership and located throughout the development.
The remaining 35 units will be allocated at 'affordable rent levels' (80% of the local market rents).
Level of need with be split between high and medium.
Address
Haworth Cour
Yeadon
Leeds
LS19 7NX
Scheme Location Map
Partners
Housing Provider
Leeds City Council
Architects
Norfolk Property Services
Local Social Services Authority
Leeds City Council
Developer
Henry Booth