Hartley Place
Ellesmere Port, Magenta Living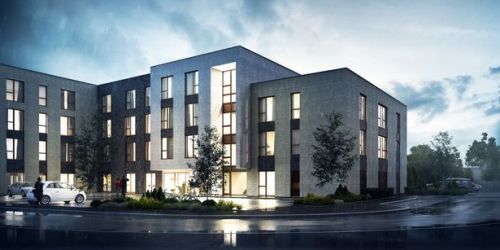 Description of Scheme
The new build will provide 60 one and two bed apartments and 15 two-bedroom bungalows, enabling residents to live independently with assistance on site should it be needed. The apartments will be in a mainly four-storey block, which planners accept will be prominent and close to Sutton Way. Magenta claims the homes will be among the most energy efficient properties in the area. They will be built to 'Lifetime Homes' standard meaning they will be easily adaptable to suit changing needs.
In addition to providing affordable homes, the scheme has also led to employment and training opportunities. Five apprenticeships have been created and partnership working with West Cheshire College has enabled specialist Yorkshire based affordable home contractors Southdale to identify appropriate training for students.
Work is expected to finish in Winter 2016/17.
Where Is It?
The Hartley Place development is located in Ellesmere Port, a large town and port in Cheshire.
Key Information
Location
Ellesmere Port
Local Social Services Authority
Cheshire West and Cheshire
Region
North West
Year Funded
2013
Cost
Total: £9.5m Grant:
DH Fund
CASSH 1
Care Services
The extra care scheme will provide 24 hour care for older residents.
The bungalows will provide homes for younger people with learning disabilities.
Key Features
Properties
75 Units
60 1 & 2 Bed apartments
15 2Bed bungalows
Address
Sutton Way,
Ellesmere Port,
Cheshire
CH66 3LJ,
Scheme Location Map
Partners
Housing Provider
Magenta Living
Architects
PRP Architects
Local Social Services Authority
Cheshire West and Cheshire