Harry Garrett Court
Swindon, Sanctuary Shaftesbury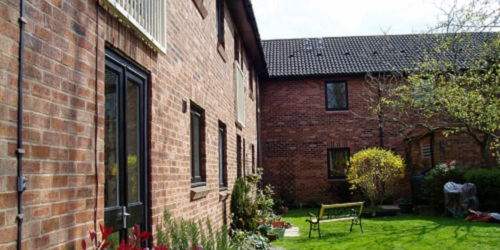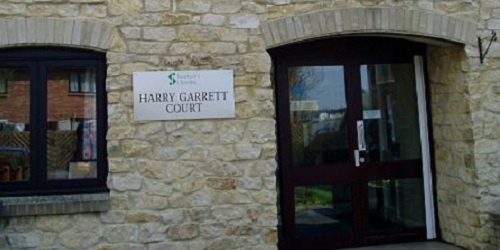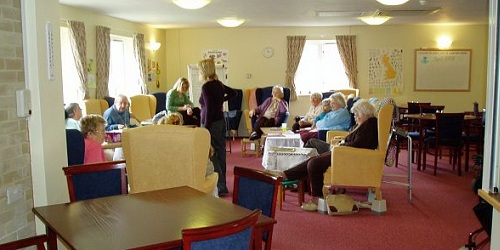 Description of Scheme
Built to provide Extra care facilities and day centre for the local community of Wroughton and surrounding area.
Access to the site is flat and level, to easy access .Two story building wide corridors for wheel chair access. Lift provided.
All client groups accommodated as long as care provider and land lord can meet there needs, all assessed on individual basis.
Regular social activities , including entertainment church services, local schools visit . Day centre on site, open to the wider community. Tenants able to access meals in the day centre.
Where Is It?
Built in a small quiet residential area of Wroughton, it is surrounded by private homes and bungalows for rent, owned by the same landlords.
Residents Information
James:
'I have been here one year and as I tell everyone, I should've moved here years ago! We have plenty of facilities: bingo and a restaurant within the home are the most important things but we are also in a brilliant location to get out and go to Swindon. I count myself as lucky!
I am more than happy with the rooms, I have an en-suite which really helps as the toilet is so close and there is no hassle in getting through the apartment. The staff are fantastic, organised and help with paperwork or whatever we need a hand with. We also have a number of volunteers and an onsite handyman if we need anything fixed.'
Mary-Joyce:
'I have been living here for 18 months and I am very happy. I like being able to go up for lunch at the restaurant because it encourages me to dress up, put in my curlers and look my best! The meals are lovely and it is more like a social gathering than just lunch. Every Monday there is a 'dial-a-ride' service to the nearby supermarket. The location is fantastic and we get no trouble, I feel very safe.
There is a daily cleaner here which makes the place smell nice which I find really important. I feel like I am in a large hotel rather than a care home! The staff are caring and I get on really well with them. Also we have a fire check every Tuesday so I know I am safe within my flat.
The rooms are fantastic, I have an en-suite and the rooms are a great size so they are easy to clean. I just love living here, the sunshine streams in through the windows of my flat and everything is very peaceful. I have everything I need!'
Wendy & George:
'We are a married couple and have been living here for the best part of 13 years. The care services are excellent and I don't know how one could fault the place. The staff are all really kind and friendly and are able to shower and dress George which helps me a lot.
We have BBQs when sunny, plenty of activities throughout the month, and for us Christmas is the highlight of the year - we have a large meal and everyone is good spirits! The day centre also keeps a buzz throughout the home which I love as I never get bored and it is never too quiet.
The rooms are a magnificent and in terms of size are perfect. Everything is absolutely brilliant here and there is nothing that can be improved!'
Key Information
Location
Swindon
Local Social Services Authority
Swindon
Region
South West
Year Funded
2004-05
DH Fund
ECH
Proximity
Access to site fairly easy. Distances: bus stop 100 yards; shop 500 yards; post office 500 yards; town centre 3 mile(s); GP 400 yards.
Relevant Local Strategy
Swindon Borough council is looking to provide 200 extra care places within Swindon.
Care Services
Extra Care scheme with on-site care staff, resident management staff (24 hours, 7 days) and community alarm service
Facilities
Lift
Communal Lounge
On site kitchen
Garden
Guest suite
Consulting rooms
Resource Day Centre
Key Features
Properties
41 flats. Sizes 1bed. Includes mobility standard properties. Built in 1990. Renovated in 2005.
Tenure
Address
Willow Walk
Wroughton
Swindon
Wiltshire
SN4 0SE
Scheme Location Map
Partners
Housing Provider
Sanctuary Shaftesbury
Care Provider
Sanctuary Shaftesbury
Local Social Services Authority
Swindon
Developer
Sanctuary Housing