George Davies Lodge
Ilford, London & Quadrant Housing Trust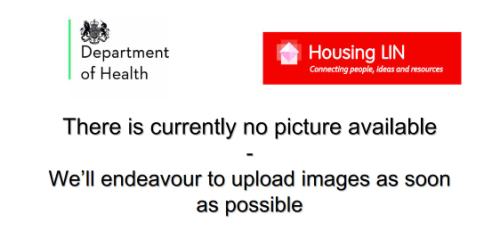 Description of Scheme
George Davis Lodge is not a listed building and is within a conservation area.
All care needs are catered for - providing they meet the council's eligibility criteria for access to services. It is part of the Council's programme to offer a flexible service to enhance and promote independence and part of this are four transitional flats which support the intermediate care service. Supplementary services such as hobby/craft work; exercise classes & podiataru are available daily as are trips to various places (chosen by tenants) to enhance wellbeing and promote social inclusion.
Additional hydraulic lift installed for better accessibility; scooter store upgraded to offer convenience & aid mobility; additional paved patio for better accessibility to tenants own private external washing hanging area; installation of wet room with ergonomic handles/accessories & PVC wall sheeting (hospital standard to achieve optimum hygienic conditions); internal colour coded decor to improve independent movement for tenants with dementia; internal door security system to improve safety and ensure division between communal and tenant only areas (with modern specification for whellchair users); installation of mezzanine area to provide tenants only lounge/T.V room; computer room; pool/dart room to help in active ageing/improve co-ordination; fully equiped treatment room, finished to professional/clinic standards
Availibility of cafe style catering and the supplementary services such as haidressers, exercise classes and trips are available to non-residents. During 2009/2010 further development is taking place to increase interaction with the wider community.
Where Is It?
Located 1 mile from Barkingside an 1.5 miles from Ilford
George Davis Lodge is located centrally in a residential area of privately owned housing. These are 2/3/4+ bedrommes houses & bungalows, circa Victorian/1930'S period properties.
There is a large comprehensive school directly adjacent to the unit, with a variety of retails units nearby.
Residents Information
"This has given me a home from home, where I can socialise and meet friends and enjoy things like the exercise classes that takes place weekly and having the care team in the building gives me peace of mind if I need them, they are there and I won't have to move out to a care home, which is one of my big worries...I tryly feel I have control back in my life".
Key Information
Location
Ilford
Local Social Services Authority
Redbridge
Region
London
Year Funded
2005-06
Cost
£885,22
DH Fund
ECH
Awards
'Garden in Bloom' - Joint First in 2008
Proximity
Access to site fairly easy. Barkingside is 1 mile away and Ilford 1.5 miles.
Local shops, GP, pharmacist are all in the close vicinity and are less that ½ mile away
Relevant Local Strategy
Enable people with both housing & care needs to move to a suitable supportive environement where they can live as independently as possible for as long as possible.
Key themes that are linked to both national & local objectives are: promote independence; provide person centere care; enable people to live in their own homes without the need to move to residential care; avoid admission to hospital; facilitate timely & early discharge from hospital.
The demand by potential tenants has lead to an existing sheltered housing unit owned by the Council to be re-configured and transformed into an extra care unit. Wainting lists for vacancies are now evident. Future plans include the development of a care village within the borough that will include mixed tenure extra care housing.
Care Services
Extra Care scheme with 24 hours / 7 days), non-resident management staff and community alarm service
Facilities
Lift
Lounge
Dining room
Laundry
Guest facilities
Harden
Hairdressing salon
Key Features
Properties
40 flats. Sizes 1bed, 2bed. Built in 1974. Renovated in 2007.
Tenure
Address
Veronique Gardens
Barkingside
Ilford
Essex
IG6 1AY
Scheme Location Map
Partners
Housing Provider
London & Quadrant Housing Trust
Architects
Bailey Garner
Care Provider
London & Quadrant Housing Trust
Local Social Services Authority
Redbridge
Developer
London Borough of Redbridge
Contractor
Haynes & Smith