Elms Park
Ruddington, Nottingham Community Housing Association Limited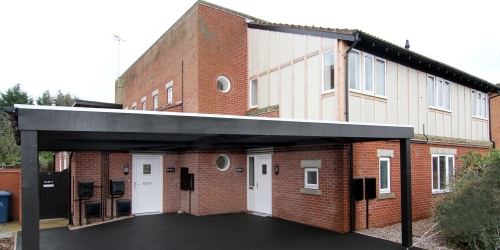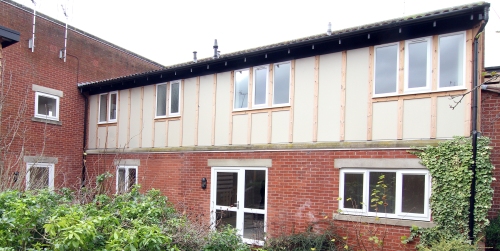 Description of Scheme
The scheme of four self-contained flats is a conversion of a property already in NCHA's ownership which was a de-registered registered care home. All 4 flats are greater in size than the HCA's HQI standards and could have temporary dividers in some habitable rooms if the number of rooms needed to be increased for a short period of time (for example for a live-in carer).
The properties are all dual aspect so will have light filled spaces. The wheelchair unit will have adjustable kitchen units. The two first floor flats have their own dedicated stair to their front door. Private external space can be provided for each flat within a communal setting. There is an existing car port which can be used for external get-togethers in inclement weather. Tree and shrub planting is proposed with species that are beneficial to wildlife. Each unit will have its own external store.
The units are to be built to the Code for Sustainable Homes Level 3. A WiFi based system of call for support (Telecare) will be available from day 1.
Where Is It?
Ruddington is a suburb to the south of Nottingham in the district of Rushcliffe. The property, now a de-registered care home, is situated within an established housing estate constructed in the 1960's/70's.
Key Information
Location
Ruddington
Local Social Services Authority
Rushcliffe Borough Council
Region
East Midlands
Year Funded
2013
Cost
£310,500
DH Fund
CASSH 1
Proximity
The scheme has a local general and convenience store (Sainsburys Local), parks, churches of various denominations within walking distance and is close to a bus route.
Care Services
Properties are enabled with Telecare to provide support and assistance when needed 24 hours a day, 7 days a week. Furthermore, the wheelchair enabled apartment has adjustable kitchen units.
The scheme is up and running and currently provides services to individuals with learning disabilities including autism. Individuals currently accommodated have a good degree of independence but require prompting and supervision on daily living tasks, promotion of general health and wellbeing as well as compliance with the terms of the tenancy agreement, including managing anti-social behaviour.
Facilities
The scheme has been designed to meet the strategic aims of the local authority's housing strategy, in conjunction with Adult Social Care & CCG Commissioners. By the very nature of this approach it means that each new resident will have their own personalised care and support package which will mean in practical terms their support will be tailored to meet their assessed and agreed individual needs. For this scheme it is proposed that the housing management and the care support are provided by NCHA as the provider which provides high levels of efficiency especially where staff can be shared between tenants.
The standards of the Care Services are regulated by CQC as a Home Care Service. The important element of the service is the provision of Telecare with a 24hour response service. Additional specialist services such as for example Consultant Psychiatrist or Speech and Language Therapy will be provided by the NHS to the tenants as an inward facing community service as will day time activity such as training, volunteering and hopefully paid work in time.
Key Features
Properties
4 apartments. 3 1bed, 1 2bed.
Tenure
All properties will be affordably rented.
Address
11 Elms Park,
Ruddington,
Nottinghamshire,
NG11 6NU.
Scheme Location Map
Partners
Housing Provider
Nottingham Community Housing Association Limited
Architects
Pelham Architects
Care Provider
Nottingham Community Housing Association, Housing with Care and Support
Local Social Services Authority
Rushcliffe Borough Council
Developer
Nottingham Community Housing Association Limited
Contractor
Waters Homes Limited