Dinnington (tbc)
Dinnington, Leazes Homes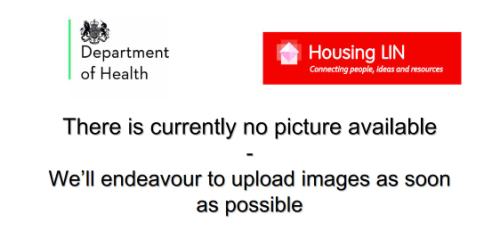 Description of Scheme
The scheme in Dinnington will provide a mixture of 25 one and two bedroom apartments as well as five bungalows, all will cater for people with dementia.
The scheme is at tender stage and has not yet appointed a preferred contractor. Key features of the scheme include:
All units to be designed in full compliance with Wheelchair Housing Design Guide;
All units hardwired for telecare / telehealth applications;
BREEAM Multi-Residential Very Good for the block of apartments and Code for Sustainable Homes Level 3 for the bungalows; and
Tenderers advised to take account of the reports produced by the Dementia Services Development Centre, University of Stirling.
The scheme will have a café open to the community to use and a community library. There are training and employment targets attached to the scheme. These include the creation of 2 apprenticeships, 3 apprenticeships safeguarded, site visits / work experience placements for students and training for around 32 operatives.
Where Is It?
This scheme is located in Dinnington, a village and civil parish in the city of Newcastle upon Tyne in Tyne and Wear, England. It is about 9 miles north of the city centre, near Newcastle International Airport.
It is situated in a semi-rural area and neighbouring housing is a mixture of 1950's council housing and more recent private family housing.
Key Information
Location
Dinnington
Local Social Services Authority
Newcastle City Council
Region
North East
Year Funded
2013
Cost
Total: £3m Grant: £630,000
DH Fund
CASSH 1
Proximity
Healthcare facility / GP practice within 500m;
Public house, restaurant, café within 1km;
Local retail outlets within 500m;
Post office within 500m;
Cash point / bank within 500m;
Park within 500m;
Park within 500m; and
Bus stop within 500m.
Useful Local Statistics
According to the 2011 Census, Dinnington Parish has 737 households and a population of 1,636; of whom 358 are 65 or over (almost 22%).
Care Services
An on-site care team will be present and all units are hardwired for telecare / telehealth applications.
Facilities
A large communal lounge with a resident's tea kitchen with direct access to outdoor space. Communal lounge can be portioned off to support activities and events;
A consultation room/quiet room with provision of a hairdressing basin. It is envisaged that a hairdressing service will be provided;
On site care team;
Laundry service;
Café / catering service; and
Community library
Key Features
Properties
25 1&2 bed Apartments
10 2Bed
15 1Bed
5 Bungalows
Tenure
Address
Dinnington,
Newcastle upon Tyne,
NE13 7JL
Scheme Location Map
Partners
Housing Provider
Leazes Homes
Local Social Services Authority
Newcastle City Council