Clarence Gardens
Bury, St Vincent's HA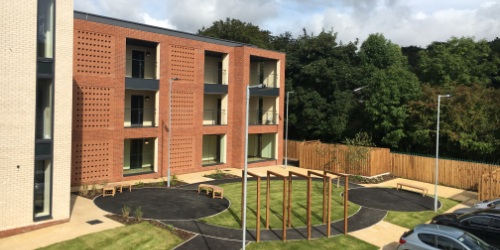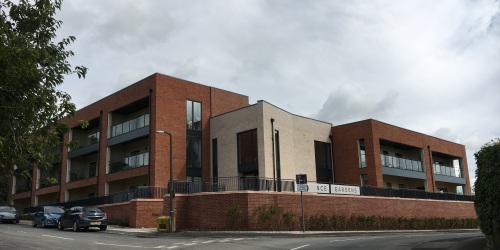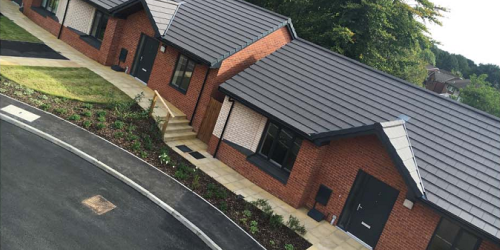 Description of Scheme
This new build " extra care light " scheme by St Vincents Housing Association has been designed to follow the HAPPI principles, HCA design and quality standards, Code 3 CfSH and Lifetime Homes standards.
By including dementia design principles within the environment this will cater for most aging physical and cognitive impairments and assists "aging in place", including design for the changing needs of elderly residents.
Community alarm call systems and other assistive technology are built in. Safety and security is also built in the design with fob and person controlled entry.
The scheme is also flexible for future housing needs for vulnerable adults as well as older people.
The development layout maintains a road frontage whilst providing a retaining planted buffer zone to the ground floor apartments patios and the balconies over. Most apartments enjoy the view of the parkland beyond.
The layout also respects the privacy of adjoining properties by observing overlooking distances and using landscape and gardens as buffer zones reflecting the roadside detail of the surrounding Victorian terraces.
The rear communal gardens provide a safe secure haven for residents reducing the car parking and hard surfaces to a minimum.
The Apartment windows, being recessed within balconies allows them to be large and full height providing plenty of light whilst avoiding solar heat gain and loss of privacy. The two bedroom apartments provide a flexible second bedroom which could be used for dining, hobbies etc. All shower rooms could be en-suite for future hoist access.
The entrance area to the rear incorporates a mobility scooter parking and recharging area whilst the front provides areas for sitting and waiting for guests to arrive. The rear access walkways are wide to allows social interaction and they widen to incorporate incidental seating areas with views over the garden below. The access walkways bring residents to the communal hub with lounge and multipurpose space. The stairs and lift are also positioned centrally.
The choice of construction is Lightweight steel frame system, which is a sustainable form of construction and an A rated on the BRE guide. The apartments and bungalows are ventilated using a MVHR system which provides heat recovery.
The communal garden design has created different activity areas such as communal patio, quiet seating area within the landscape area, composting area, and raised planting area for residential participation. The soft landscaping will provide sensory, therapeutic planting, whilst allowing the garden to develop with resident input.
The key challenges for the design is to create a safe secure environment, whilst presenting a scheme of openness and community outreach. The resident's dignity and privacy is to be respected and the design should break down institutional barriers often associated with over 55 housing.
Where Is It?
This scheme is situated within a mixed residential area in Bury, a town in Greater Manchester.
The site benefits from being in a sustainable location in terms of accessibility, parkland to the North and bus routes to the south.
Key Information
Location
Bury
Local Social Services Authority
Bury Metropolitan Borough Council
Region
North West
Year Funded
2013-2015
Cost
Total: £2,613,834 Grant: £525,000
DH Fund
CASSH 1
Awards
Shortlisted for The Sunday Times Housing Award 2017
Proximity
Half a mile to local shops, GP etc
Local bus routes nearby
Relevant Local Strategy
Extra Care housing is a growing response to the diverse needs and aspirations of a growing older population. It is often a more suitable housing alternative to residential care.
There is also a growing movement towards age-friendly communities which is adopted in Manchester. In addition, there is a growing need in facilitating older people with dementia and sight loss to maintain their independence.
This development is linked to Bury Metropolitian Borough Council Older Persons Strategy.
Care Services
This particular scheme is "extra Care light " therefore it promotes independent living while offering support when and if necessary. Apartments are fully self-contained where occupants have their own front door.
No management is fixed on site, but access to care and support services is 24 hour a day, if necessary.
Facilities
Communal lounge
Communal garden
Key Features
Properties
12 1Bed Flats
4 2Bed Flats
3 Bungalows
Tenure
Social rent & shared ownership
Plans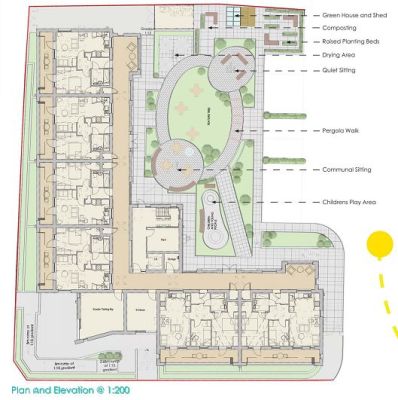 Address
Danesmoor Drive
Bury
BL9 6FY
Scheme Location Map
Partners
Housing Provider
St Vincent's HA
Architects
Jennings Design Associates
Local Social Services Authority
Bury Metropolitan Borough Council
Developer
St Vincent'a HA
Contractor
Kier Living