Christopher Boone's Almshouse
Lewisham, One Housing Group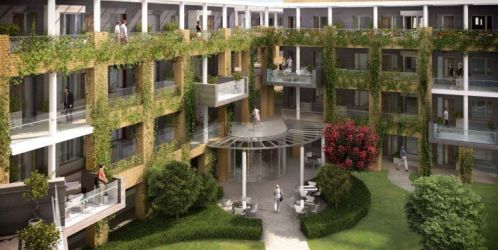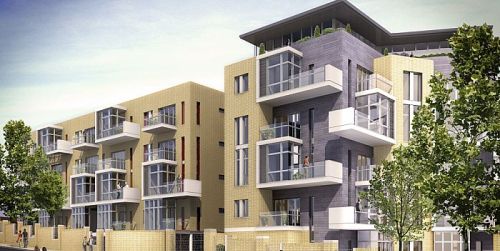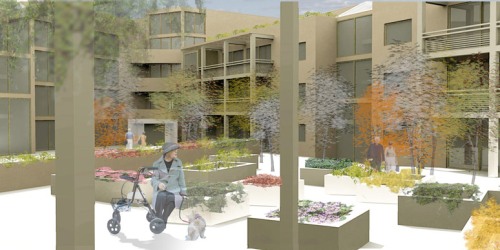 Description of Scheme
Christopher Boone's Almshouse provides 30 2 bedroom apartments for those with varying needs of extra care
A typical two bed unit within the scheme has generous space standards at 82.5 sqm. The design and size of the flat promotes flexibility and they are all dual aspect.
The windows and balcony doors to all the flats are generously proportioned and include floor to ceiling glazing maximizing the level of natural light. The circulation spaces are generously proportioned and open to the outside ensuring high levels of natural daylight and ventilation. Larger shared seating bays throughout the circulation areas create opportunities for residents to gather.
All of the flats are dual aspect so there are no internal corridors. All of the flats have external amenity space with a large balcony, patio or terrace.
It is anticipated that the building will be fitted with integral wiring to enable equipment and other smart/ assistive technology to be provided.
All of the flats are arranged around a secure south facing garden and are accessed off open walkways which will be areas for socialising, chance meeting and offer opportunities for personalisation.
The Almshouse scheme has a guest room and communal facilities, including a communal lounge, summer lounge in the garden and communal laundry
The scheme has been carefully developed in response to its context close to conservation area. Access by cars is kept to a minimum with a parking court for the Almshouses located to the north of the site. Pedestrians can enter the Almshouses from two locations and these give good access to the shops to the south on Lee High Road.
The new scheme improves the street scape and will create a more interesting and safer environment for people in the local area.
The landscape design maintains mature trees on the site wherever possible. The central courtyard invites people to use the space and the circular covered walkway takes people around the perimeter. Along the way there are places to sit with a path that leads to the final destination of the summer lounge.
The scheme will outperform Part L 1 2006 of the Building Regulations and use renewable technologies to help reduce the carbon footprint.
Secure cycle and buggy parking will be provided adjacent to the main entrance and secondary entrance into the building. Additional storage space is provided at lower ground floor for residents. It will also be possible to store buggies on the walkways or inside flats, should residents choose to do so.
There is provision for wheelchair storage in each flat and other storage space will meet or exceed the standards set out in the HCA guidelines.
Where Is It?
Christopher Boone's Almshouse is located in the London Borough of Lewisham. The surrounding area is predominantly residential. The roads are relatively quiet and comprise a mix of building styles from large 19th century villas to newer developments constructed in the 1960's and 70's and 1930s semi-detached two story family homes.
Key Information
Location
Lewisham
Local Social Services Authority
London Borough of Lewisham
Region
London
Year Funded
2013
Cost
£10.1m
DH Fund
CASSH 1
Awards
Shortlisted - Project Award (Housing Design Awards 2011)
Proximity
Christopher Boone's Almshouse is very well located with close proximity to shops, transport and community facilities. Older residents will be supported and encouraged to optimise use of mainstream services including GPs, libraries, bowling clubs as well as specialist services for older people e.g. day centres, social club.
Although the scheme is in a quiet residential area, it sits behind the busy main roads of Lewisham High Street and Lee High Road. All of the facilities of Lewisham shopping centre are 10 minutes away by bus and there is a bus stop 300 meters from the scheme. There are shops on Lee High Road, which is 5 minute walk from the development. Lewisham Medical Centre is 0.4 miles from the scheme or a 7 minute walk
Relevant Local Strategy
London Borough of Lewisham is forecast to see the second highest population expansion in inner London over the next two decades. The population of people over 65 is set to rise by 52% between 2012 and 2032 and those aged over 85 by 67%. Homes for Lewisham Draft Housing Strategy 2015 - 2020 sets out the council's overarching vision. To respond to the demand for housing across all tenures Lewisham needs 1,600 new homes built per year. The strategy highlights the particular challenge in ensuring housing for older people and necessity for specialist housing that meets their aspirations and needs.
http://www.lewisham.gov.uk/mayorandcouncil/aboutthecouncil/strategies/Documents/HousingStrategy2015.pdf (opens new window).pdf
Care Services
One Housing Group is a CQC registered provider of personal care services within extra care services across London and will offer a personally tailored menu of care services available for residents. One Housing Group is also a member of Associated Retirement Community Operators (ARCO) and all onsite services will also be fully compliant ARCO's charter.
As part of our Senior Plus housing and facilities management offer for older people we provide additional menu services such as cleaning or handyperson which can be purchased on an individual basis. As part of commitment to excellence across all older people's service we have introduced a successful 'dementia friends' programme which includes training all care, housing and facilities staff.
Facilities
The Almshouse scheme has a guest room and communal facilities, including a communal lounge, summer lounge in the garden and communal laundry.
The provision of the pleasant communal room will provide an ideal space for social activities that are both self-directed and facilitated by One Housing Group.
Key Features
Properties
30 2Bed Apartments
Tenure
All units are Private Sale
Address
Belmont Park and Middleton Way,
Lewisham,
London,
SE13 5BL
Scheme Location Map
Partners
Housing Provider
One Housing Group
Architects
PRP Architects
Care Provider
One Housing Group
Local Social Services Authority
London Borough of Lewisham
Developer
One Housing Group