Chesil Street Extra Care Scheme
Winchester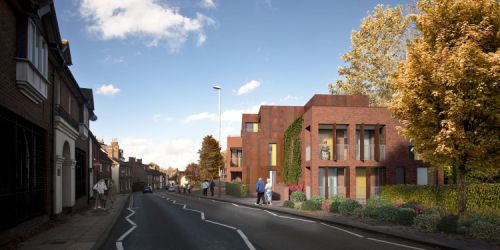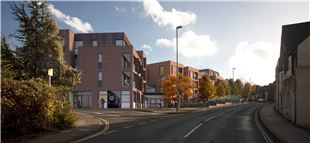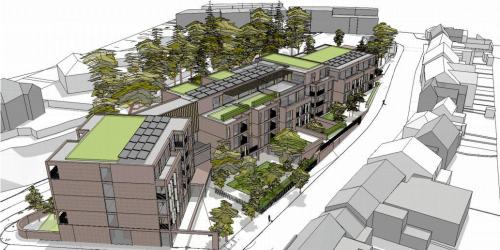 Description of Scheme
The scheme has 52 self-contained apartments (30 1-bed and 22 2-bed) on the upper floors with communal lounge, cafeteria and other ancillary facilities for residents on the ground floor. There is also a Day Care dementia respite facility for Hampshire County Council within the scheme.
The development will form a prestigious gateway development into the city centre, providing a contemporary styled home for local older residents of Winchester. Predominantly using traditional Winchester red brick, the elevations use large fenestration and recessed integrated balconies to give high levels of natural light and ventilation to the occupiers, which informs the architectural style. The topography of the site means the southern end of the building is in the ground, which is utilised as an underground car park. The building is set back from Chesil Street to form an urban landscaped garden area to the front of the building, retaining the green open feel that the existing car park provides in breaking from the urban build-up.

The development is expected to be onsite by late summer 2015 with a completion date of spring 2017.
Where Is It?
This development is to be built on the site of an old car park in the city of Winchester, the county town of Hampshire.
Key Information
Location
Winchester
Local Social Services Authority
Winchester City Council
Region
South East
Year Funded
2013
DH Fund
CASSH 1
Proximity
This Extra Care scheme is located in the heart of Winchester with local amenities easily accessible.
Useful Local Statistics
There are growing numbers of older persons in Winchester (25% increase in over 85 year olds since 2001) this has resulted in an increased need for housing and services that meet older persons' needs.
Care Services
This Extra care housing scheme consists of groups of individual houses or flats with communal facilities that allow residents to retain independence whilst having access to 24 hour care.
Facilities
communal lounge
cafeteria
urban landscaped garden area
Key Features
Properties
52 apartments
30 1Bed
22 2Bed
Tenure
44 Affordable Rent
6 shared ownership
2 outright sales
Address
Barfield Close,
Winchester,
Hampshire
Scheme Location Map
Partners
Architects
PDP
Local Social Services Authority
Winchester City Council