Callendar Court
Gateshead, Housing 21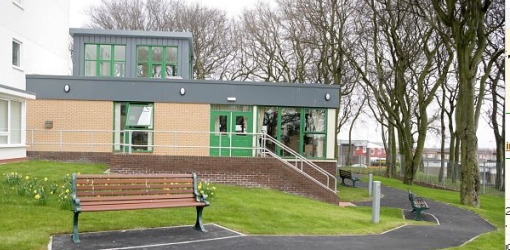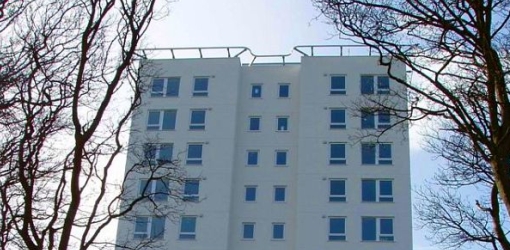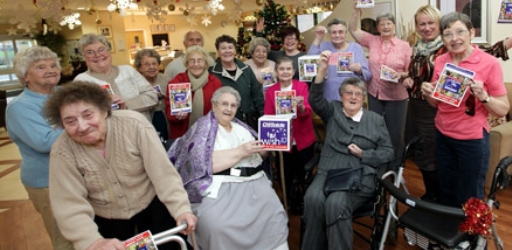 Description of Scheme
Callendar Court is a tower block that has been re-modelled to provide extra care housing on 11 storeys in 20 one bedroom and 20 two bedroom apartments.
A major feature of the re-modelling was the addition of a ground floor extension. The new entrance opens into this area, which houses a range of facilities that are open to residents and local people, including a lounge, café, lifts, laundry, guest room, hobby room, shop, and hairdressing salon. It also contains the scheme offices, the kitchens, a wheelchair store and toilets. The Court has two wheelchair accessible flats, both of which are on the ground floor.
The facilities are well used by residents and people in the area, which is a close knit community, and this helps to make the court feel integrated with the estate on which it sits.
Residents report high levels of satisfaction with the Court and the panoramic views across Gateshead and beyond are particularly valued. One wheelchair user chose a flat on the top floor for this reason, rather than one of the designated wheelchair flats on the ground floor. The layout seems to create a domestic feel to the scheme, with each storey serving as a small cluster of 4 flats. This also seems to work well for residents with memory problems, who find it easier to negotiate than the long corridors commonly found in new-build extra care schemes. The fact that the two lifts serve different floors one odd, the other even) has proved not to be a problem in this respect.
Where Is It?
Callendar Court is unusual for an extra care scheme because it is a refurbished tower, which sits alongside 2 other tower blocks on the edge of one of several large council estates in the High Fell ward of Gateshead. This is an area that records a relatively low quality of life, a high proportion of young people and high levels of unemployment.
Residents Information
"Callendar Court Tenants put on a range of activities for people living in the area. It makes for a strong community feel and we really enjoy meeting up and having fun!"
Key Information
Location
Gateshead
Local Social Services Authority
Gateshead
Region
North East
Year Funded
2005-06
Cost
£4.7m
DH Fund
ECH
EAC Quality of Information Mark
Yes
Proximity
Further facilities are available nearby, including bus stops (200yds), a social centre 200yds), general store (400yds), post office (400yds) and a General Practice (800yds). The nearest town centre is Gateshead approximately 1 mile away.
Relevant Local Strategy
Callendar Court opened in 2006 as the last of 5 courts developed by Gateshead Council with Housing 21, as part of a £15 million modernisation scheme for older people's housing.
A Housing Needs Assessment carried out by Gateshead Council in 2002 identified an oversupply of social rented accommodation in the south of Gateshead, an area that includes the Beacon Lough estate. This estate was the subject of a detailed review, which culminated in October 2003 with the Council's decision to demolish 153 dwellings on the estate and to seek alternative options for the use of Callendar Court, a multi-storey block of flats. At that time the block was 62% empty and there had been a history of management problems. In 2003 the Council agreed to consult with all the residents of Callendar Court about the possibility of being re-housed in preparation for a suitable alternative use or demolition. 78% of residents agreed with this proposal.

A decision was then taken to transform the tower block into retirement housing and the subsequent £3.6 million scheme saw the block gutted and stripped back to its supporting structure and then completely refurbished with the addition of a ground floor extension to house additional communal facilities. The building was also rewired and reroofed, a new entrance was built and a secure outside area was created to take advantage of the surrounding environment, which contained trees and grass. This decision can be viewed in the context of the Gateshead Housing Strategy which includes an aim to increase provision of extra care housing in order to promote independence for older people. Conversion of the existing building was also seen to contribute towards the social care modernisation programme of reproviding residential care and developing community based options, as well as to the regeneration of Beacon Lough East. In addition, the Council felt that reprovision as an extra care scheme, rather than demolition and new build, supported the Council's policies to achieve communities living in a sustainable environment.
The conversion process was part funded by a Department of Health extra care grant of £3.3 million, with the remaining £1.4 million coming from Housing 21. From the point of view of Gateshead Council, the sale of Callendar Court to Housing 21 meant a net rent loss after subsidy of about £144,000. In addition the redeveloped building would incur housing support and home care costs, although the exact amount of these was not known at the time. It was anticipated that the additional housing support costs could be met from the Supporting People Grant, while the home care costs would have to be accommodated within existing resources.
The alternative to remodeling was that Callendar Court could be demolished and the site sold or leased to Housing 21 to build a new facility. The estimated cost of demolition at that time was approximately £600,000 and Housing 21 estimated the cost of new build to be around £3.7m. However, this option would entail the Council identifying resources to fund the demolition, which would be problematic due to demands on the Housing Investment Programme at that time.
Care Services
Extra Care scheme with on-site care staff (24 hours / 7 days), non-resident management staff (24 hours, 7 days) and community alarm service
Facilities
Lift
Lounge
Restaurant
Laundry
Guest facilities
Garden
Hobby room
Cafe
Shop
Hairdressing salon
Key Features
Properties
40 flats. Sizes 1bed, 2bed. Includes mobility standard properties. Renovated in 2006.
Tenure
Plans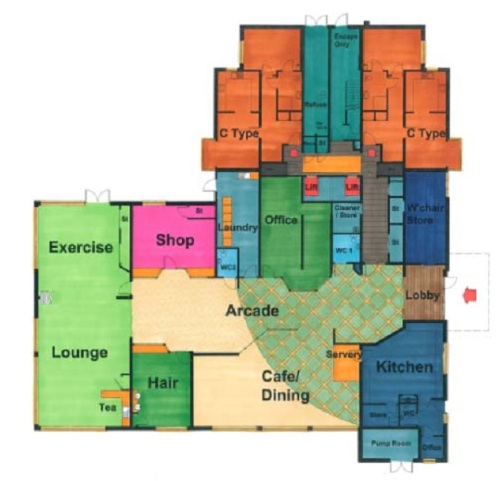 Address
Callender Court
Beacon Lough East
Gateshead
Tyne & Wear
NE9 6RR
Scheme Location Map
Partners
Housing Provider
Housing 21
Care Provider
Housing 21
Local Social Services Authority
Gateshead
Developer
Gateshead Council
Contractor
Frank Haslam Milan