Brownlow Road Extra Care
Mansfield, Mansfield District Council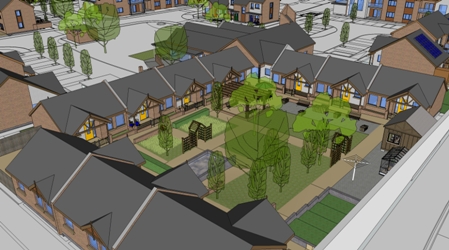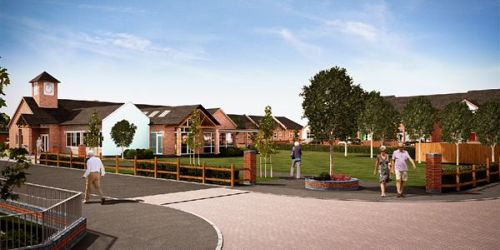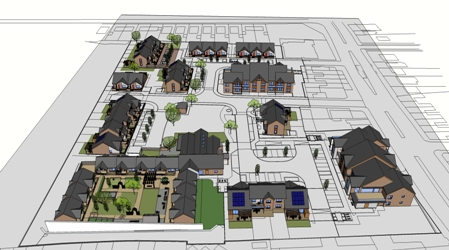 Description of Scheme
The scheme consists of 64 units of which the County Council have nomination rights to 48 for people aged 55 or over with extra care needs. The occupants of the remaining 16 units will receive the District Council's ASSIST service which is support rather than care.
The scheme is a medium density, low rise, dispersed form of accommodation creating a village type development of 64 units, ten of which will be low level dementia bungalows. The dementia units are laid out in a secure garden with controlled access through their own dedicated communal area.
The communal facilities for the other units adjoin the low level dementia area and provide multi-purpose spaces to allow for social and community activities. Across the scheme, the dwellings will be hardwired and have a telecare overlay.
The nature of the scheme design is such that there is a range of dwelling types and sizes that help to create a vibrant and sustainable community. The development focuses on the quality of accommodation, opportunities for social interaction, affordability and most importantly, continued independence. Clusters of units act as smaller communities. At the central and natural heart of the development is the central facilities building. This acts as the focus for the whole village community as a place to meet, socialise and interact with other residents.
From a landscaping perspective, the gardens are intended to be an extension to each building 'cluster' creating outside rooms. These form an important focal point to view from both ground and upper floors of each residential 'cluster' and contribute to the character and quality of life in the village. These green spaces can provide protected/sunny, sheltered outdoor seating spaces with design features, such as raised planters, appropriate for residents' needs.
The scheme will achieve Code Level 4 of the Code for Sustainable Homes which is consistent with the Council's development aspirations as a recognised Low Carbon Authority (achieved in 2011).
The scheme design has been driven by the 10 components for the design of housing for older people recommended by HAPPI ensuring higher design standards for space and quality.
Where Is It?
The Brownlow Road site is located just less than one mile to the north west of Mansfield town centre. The roads north and south of the site have local bus services. The surrounding area is predominantly residential with local shops and amenities, open space, schools and churches.
Key Information
Location
Mansfield
Local Social Services Authority
Mansfield District Council
Region
East Midlands
Year Funded
2013
Cost
£8.4m
DH Fund
CASSH 1
Proximity
Within approximately half a mile radius of the site there are a number of facilities and amenities:
1 x doctor's surgery
3 x pharmacies
7 x shops (including a large national supermarket within half a mile and on the main bus route)
5 x churches
3 x leisure facilities (swimming baths, recreation ground and bowling green)
3 x community centres
Within a mile, the town centre is accessible offering a wide array of shopping facilities, library, banking, doctor's surgeries, pharmacies, dentists etc.
The main hospital for Mansfield (King's Mill) is just over 3 miles away and the Community Hospital (which includes an older people's outpatient and community rehabilitation service) is 1.5 miles away. The bus and rail stations are approximately 1.5 miles away.
Relevant Local Strategy
There is no specific District Council strategy at present however the evidence for the need for extra care was based on a countywide research project carried out in 2011 into older persons' accommodation (A Strategic Approach to Older Persons' Accommodation for Nottinghamshire and Erewash - Peter Fletcher Associates Ltd).
The County is working with districts to develop a housing strategy for older people. This is part of a larger project to develop a joint strategy for sustainable housing for older people and people with disabilities across Nottinghamshire.
Click here (opens new window) to download the County Council Market Position Statement 2012.
The County target for new extra care places is 160. The development of extra care is part of the County's Living at Home programme which aims to further develop and test out a range of flexible and individually tailored care and support services to help older people to stay living independently and safely in their own homes for as long as they can.
In respect of SHOP@, the districts are currently updating their information so that the tool can be more effectively used in the development of a strategic approach to older persons' housing.
Useful Local Statistics
Key research findings for Mansfield (based on research from 2011):
Between 2009 and 2030, the 65+ population is projected to increase by 55.5% and the 85+ by 109.1%.
By 2030, 26.5% of the population will be aged 65+ and 4.5% will be aged 85+ (compared to 2009 figures of 17% and 2.2% respectively).
10,077 people aged 65+ are projected to be living alone by 2030, an increase of 56% from 2009.
In 2009, it was estimated that 56.9% of people aged 65+ in Mansfield had a long-term limiting illness (by far the highest level in the County and far higher than the regional average (47.8%) and England average (47%).
The number of people aged 65+ with dementia is projected to increase by 74.3% between 2009 and 2030.
Facilities
There is a Communal Hub where provision will be made for an activity room with kitchen area, a meeting/consultation/assessment room, management & care offices, ambulant WC and a disabled WC.
There is an amenity area which will be considered for use as allotments and an area that will be used as a sensory garden.
Key Features
Properties
34 flats. 1bed, 2bed.
25 bungalows.
5 houses.
Tenure
54 properties will be rented and 10 properties (5 bungalows and 5 houses) will be for older persons' shared ownership.
Plans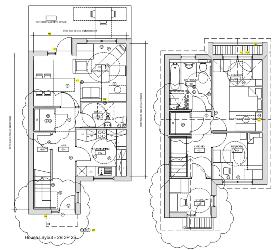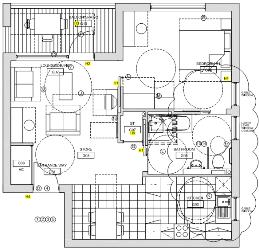 Address
Brownlow Road Extra Care,
Brownlow Road/Bould Street,
Mansfield,
Nottinghamshire,
NG19 6DY.
Scheme Location Map
Partners
Housing Provider
Mansfield District Council
Local Social Services Authority
Mansfield District Council
Developer
Mansfield District Council