Bournville Gardens
Birmingham, The ExtraCare Charitable Trust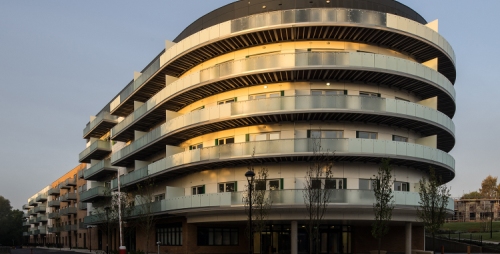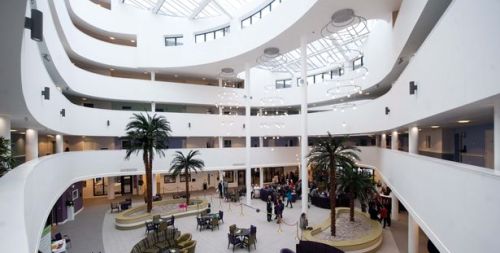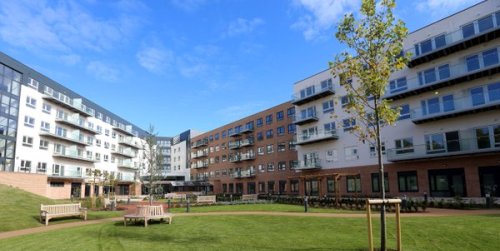 Description of Scheme
Bournville Gardens is a retirement Village comprising of 212 units in total. The 10 key design elements identified by the HAPPI Report has been an important feature of the design of the Village.
Each home has its own front door, kitchen, living room and one or two bedrooms. All homes have a spacious shower room with basin and toilet. A significant number of homes have their own balcony. Village homes have been carefully designed, combining traditional style with modern technology. The technology is designed to support independence, safety and mobility in the home without being obtrusive.
The facilities are at the heart of a state-of-the-art, sustainable community that will benefit over 300 older people, encouraging social and active participation amongst all age groups within the local neighbourhood. Residents, visitors and volunteers will have the opportunity to take part in a variety of hobbies, including choir singing, Tai Chi, writing, drama, wheelchair aerobics and woodwork, all designed to support independence and improved social opportunities.
Where Is It?
This scheme is situated within Bournville, the model village on the south side of Birmingham on the site of the former Bournville College. In the 1930s large areas of housing were built. Allens Cross estate was built to house over 6000 people on the land of three farms, Allens Cross Farm and Upper and Lower Tinkers farms. In the 1960s housing estates were developed at Ley Hill, West Heath, Bunbury Road and Vineyard Road. There was also much private infilling and the area was completely urban by 1970. The focus of the area moved from the old village to the junction of Church Road with the Bristol Road, now a thriving shopping centre.
Key Information
Location
Birmingham
Local Social Services Authority
Birmingham City Council
Region
West Midlands
Year Funded
2013
Cost
£1.2m
DH Fund
CASSH 1
Proximity
Situated on the Bristol Road, a popular bus route, there are frequent buses into Birmingham City Centre and Bournville Village. There is also a GP practice adjacent to the scheme.
Relevant Local Strategy
Click here
to access Birmingham City Council's Marketing Position Strategy for Social Care 2012-2014
Care Services
Bournville Gardens has its our own Enriched Opportunities Locksmith working with clients in early on set dementia. ExtraCare staff provide care for up to a third of residents within their own home. This includes a well-being service and specialist, award-winning support for those who might develop dementia.
More about the Enriched Opportunities Programme can be found here. (opens new window)
Facilities
Bournville Gardens has a number of facilities, including:
Reception and main street with communal seating areas
Shop
Library and IT suite
Café bar and lounge
Well-being suite and well-being bathroom
Hairdressing and beauty salon
Hobby room
Craft room
Fitness suite
Enriched opportunities suite (to support people with dementia)
Fully accessible toilet facilities
Laundry
Lifts
Cash machine
Greenhouse and village gardens
Key Features
Properties
Tenure
44 Affordable Rent
98 Shared Ownership
70 Outright Purchase
Address
Bournville Gardens,
Bristol Road South,
Northfield,
Birmingham,
B31 2AJ.
Scheme Location Map
Partners
Housing Provider
The ExtraCare Charitable Trust
Architects
Bournville Architects
Care Provider
The ExtraCare Charitable Trust
Local Social Services Authority
Birmingham City Council
Developer
The ExtraCare Charitable Trust
Contractor
GallifordTry