Badger House
Ham, Paragon Community Housing Limited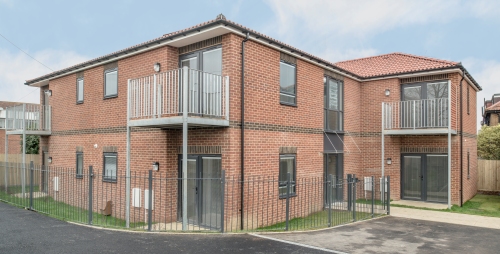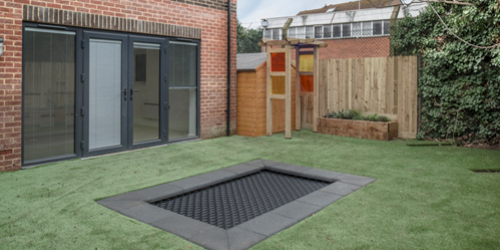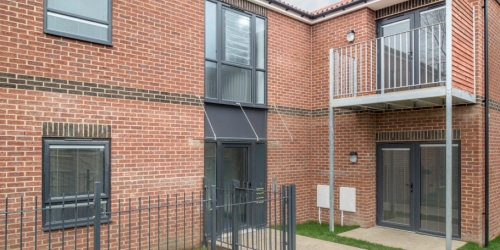 Description of Scheme
Built in partnership with the London Borough of Richmond, Badger House in Ham provides social housing for four young residents who use the Council's specialist services for autism.
It includes four one-bedroom flats, two communal living spaces, facilities for support staff and a specially designed sensory garden. One of the flats is also fully adapted for a wheelchair user.
An extensive consultation was carried out with occupational therapists, adaptations specialists, Care and Support staff and the Challenging Behaviour Foundation, with the final design meeting London Housing Design Guide standards as well as specialised best-practice guidelines 'Living in the Community - Housing Design for Adults' with Autism'.
The tenants and their families and carers identified further modifications to each flat to meet the needs of the individual clients. Specialist design features have been included within the flats to lessen the risk of injury, reduce triggers that can cause agitation, and provide stimulation for the residents. Appropriate lighting, ventilation and use of colour have been used and a unique floor system provides outstanding sound reduction.
There is an increasing urgency to meet the housing and support needs of this client group: to enable more young people to live independently and, crucially, to support them within the borough, keeping them close to their families and friends.
Where Is It?
This scheme is located in Ham, a suburban district in south west London, in the London Borough of Richmond.
Key Information
Location
Ham
Local Social Services Authority
London Borough of Richmond
Region
London
Year Funded
2013
Cost
Total: £900,000 Grant: £250,000
DH Fund
CASSH 1
Proximity
Located within yards of a GP surgery, at the end of a quiet private road.
Pharmacy among other shops is located just half a mile away at upper Ham Road.
Town centre and train station is located at Kingston 2.5 miles away.
The scheme is in the vicinity of large networks of accessible routes for cyclists and walkers across parks and open spaces too.
Relevant Local Strategy
National modelling using the Projecting Adult Needs and Information System for 2008 estimates that there are 2916 adults in the London Borough of Richmond upon Thames who have a learning disability, 668 of whom have a learning disability which could be described as a moderate or severe (i.e.23% of the total with a learning disability).
The number of people with learning disabilities is expected to rise by 10% by 2025 in line with expected population increases generally. The total number of people with a learning disability is therefore estimated at 3,223 in 2025, with 741 with a moderate or severe learning disability.
Developing specialist provision of this type is an objective of Richmond Council's:
Community Plan, 2013-2017
Housing Strategy 2013-2017
Homelessness Strategy 2012-2016
Joint Health and Wellbeing Strategy 2013-16
Richmond Council's Corporate Plan also seeks to protect and support the most vulnerable members of its community by supporting people to maintain and maximise opportunities for independence through working towards in increasing the supported housing options for people using learning disability or mental health services.
There are few sites to build on in Richmond, even fewer that are suitable for supported housing. Richmond Council regularly reviews its assets to see what can be redeveloped. This previously undeveloped site offered a rare opportunity to address a vital local housing need.
Useful Local Statistics
The Projecting Adult Needs and Service Information System (PANSI) indicates that in Richmond, 50% of those in receipt of local authority funded services are in residential or nursing care, in comparison to a London average of 35% and an English average of 29%.
Currently only 10% of all service users are living in sheltered housing or supported living arrangements whilst 39% are living at home.
Note: 'home' in this context may refer to living with parents/family/carers or living independently. The larger part of the group is known to live with parents.
These two factors mean that Richmond spends a disproportionate amount of its Adult Community Care Budget (24%) on people with a learning disability who make up approximately 13% of all LBRuT service users.
Consequently many people have been placed in 'out of borough' services. This can be at a cost of up to £100k per person per annum.
Strain is placed on both families visiting relatives as well as social workers monitoring the quality of service provision when it may be hundreds of miles away.
Care Services
Personalised 24-hour support and housing management.
Facilities
The apartments themselves boast a host of special design features that will lessen the risk of injury and agitation to the residents, such as integrated window blinds and lockable socket covers. They also include appropriate lighting, ventilation and use of colour and installed a unique floor system which provides outstanding sound reduction.
Two communal living spaces are also provided along with support staff facilities.
The shared garden offers a multi-sensory outdoor environment which can be used safely and has the potential to stimulate as well as relax. It includes features such as sensory planting in raised beds, a willow cave, light arch, sound panels and trampoline.
Key Features
Properties
4 1Bed Flats
Tenure
Address
55D Lock Road
Richmond
TW10 7LQ
Scheme Location Map
Partners
Housing Provider
Paragon Community Housing Limited
Architects
Clive Chapman Architects
Care Provider
Certitude
Local Social Services Authority
London Borough of Richmond
Developer
Paragon Community Housing
Contractor
Devcon Limited