Albany House
St Ann's, LHA Support Services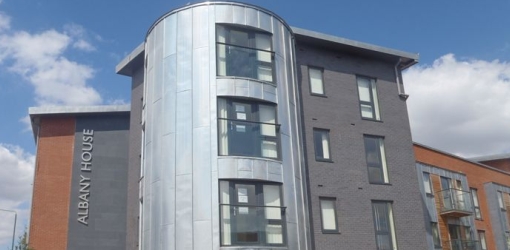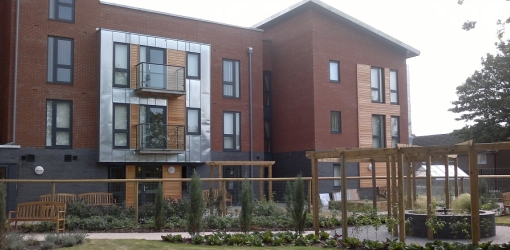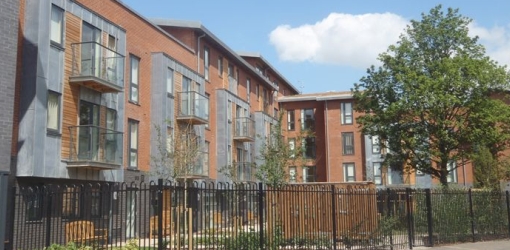 Description of Scheme
Albany House includes a mix of 71 one bed and one bed with study, social rent extra care apartments. The complex also includes a new community café and hairdressers, as well as a communal lounge and activity rooms.
The land was provided by Nottingham City Council for £1 on a 125yr lease. As part of the project LHA-ASRA also built a 60 space day care centre adjacent to Albany House. This was funded by Nottingham City Council and replaces an existing Nottingham City Council centre that no longer meets modern standards.
Albany House also includes a number of innovative green initiatives, including whole house heat recovery systems, rainwater harvesting, bio-diverse green roof and the building is also connected to the district heating system.
Where Is It?
Albany House is a new development by social housing group LHA-ASRA and is on the former site of Welland Court self-contained flats for the elderly, just off Carlton Road, St Ann's.
Residents Information
"I'm close to my family in St Ann's and I'm really enjoying life again.
My flat has a lovely view out onto the garden at the front of Albany House, and I can watch the birds nesting in the tree outside my window, which considering I'm living in the inner city is a real bonus. Where I was living before I moved to Albany House I was stuck in just one room. Now I can go up on the roof balcony and enjoy the sun in my wheelchair, or out into the community garden. We also have a day centre attached to Albany House so I get to meet up with my friends as well.
What I'm really looking forward to is getting to know more of the residents. There's a community café and hairdressers on the ground floor of the building and we've got a lovely communal sitting room, so I'm sure I'll soon be making new friends."
Key Information
Location
St Ann's
Local Social Services Authority
Nottingham County Council
Region
East Midlands
Year Funded
2008/10
Cost
£9m
DH Fund
ECH
Relevant Local Strategy
Click here for Nottingham City Council's Older Person's Accommodation Strategy (opens new window). This relates to older people and their housing options, whether this be enabling them to maintain independence in their own home for as long as possible, or a move to sheltered housing or a nursing home.
The City Wide Older Person's Strategy aims to ensure that all older citizens are able to maximise their quality of life and that the city benefits from their economic and social inclusion and participation.
Care Services
Extra Care scheme with on-site care staff, non-resident management staff and community alarm service
Facilities
Lounge
Restaurant
Laundry
Hobby room
Activities room
Cafe
Garden
Shop
Hairdressing salon
Library
Key Features
Properties
71 flats. Sizes 1bed, 2bed. Built in 2011.
Tenure
Rent (social landlord) and Shared Ownership
Address
St Matthias Road
Carlton Road
St Anns
Nottingham
Nottinghamshire
NG3 2GS
Scheme Location Map
Partners
Housing Provider
LHA Support Services
Architects
Allan Joyce
Care Provider
LHA Support Services
Local Social Services Authority
Nottingham County Council
Developer
Nottingham City Council