This week's HLINks: 6 - 10 September 2021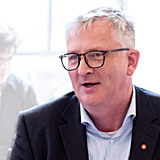 This week's news has been dominated by the Prime Minister's announcement on the Government's plan for health and social care. Where we welcome the reference to housing and the need to live well and independent in our own homes for as long as possible, there is still anxiety around insufficient funding to meet future care. With the deliverables from this plan unlikely to take shape until October 2023, the Housing LIN is supportive of Methodists Homes' #FixCareForAll as an important and timely campaign calling for immediate government action.
In other news, this week we celebrated our new sponsor of the Housing LIN's dedicated Sight loss, Home and the Built Environment webpages, West Waddy Archadia (WWA). And, to coincide with this announcement, Mark Slater, Design Director at WWA, explores and micro scales when working on architecture, urban design and planning for blind and partially sighted people in a new Housing LIN guest blog.
You can also take a tour of relevant resources and events on later life housing and independent living with regard to homes and communities, health and social care, design and technology, planning matters and more. We highlight a range of items that we think will be of interest to you, including:
The Government's plan on health and social care after the impact of the COVID-19 pandemic.
Report by the APPG on Dementia that calls for Government to deliver on its manifesto commitment and fund the Dementia Moonshot.
And remember, you can now sign up to attend this month's HAPPIHour webinar sessions. We're delighted to kick off the Autumn series on Sep 21 on 'Investing in Ideal Homes' with Winckworth Sherwood, followed by Sep 28 when we take 'a practical look at intergenerational living'.
Keep up-to-date with the latest on housing and care matters and register here (opens new window) to receive other notifications of your choice, sent direct to your inbox. And remember you can also follow us via our Twitter feeds: @HousingLIN (opens new window), @HLINComms (opens new window) (formerly @HousingLINews) and @HLINConsult (opens new window).
Lastly, if you would like to talk to us about any matters highlighted in this week's issue, share learning about your work and/or discuss how you can engage our highly regarded consultancy services (opens new window) to support you, email 'Jeremy talks' at: info@housinglin.org.uk (opens new window)

Stay connected and, above all, remain safe.
Jeremy
---
The Housing LIN would like to thank Willmott Dixon for their support in producing this newsletter.