This week's HLINks: 5 - 9 October 2020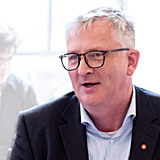 #Jeremytalks

Welcome to Jeremy talks and my weekly piece to audio to coincide with the Housing LIN's free weekly bulletin, HLINks, week ending Friday, 9 October 2020.

This week I was delighted to be invited to be a Commissioner on a new Commission. Commencing later this month, the Commission will explore in detail what the emerging TEC models might look like and produce recommendations for government, the health and care system and the technology industry. More details to follow.

We also held a great HAPPI Hour session on Inclusive Living with the co-authors of the recently published Scottish Federation of Housing Association's toolkit. And find out more about thought-provoking content in our next HAPPI Hour sessions by checking out the events page on our website.

In other news, on Wednesday it was #HousingDay and, to coincide, we published a new guest blog by Lifestyle by Engie's Retirement Solutions Director, Paula Broadbent, which looked at ageing and the zero carbon agenda. The following day we released a new Inspirational Achievements page by L&Q Living highlighting their work to tackle the first wave of Coronavirus in their sheltered and extra care housing.

And following the release of Appello's third report on digital technology and supported housing, we joined a webinar showcasing how TECS can transform lives and improve the delivery of services under Covid and lists providers' priorities for technology going forward.

In this week's HLINks, you can also read our curated round-up of other relevant news and events on later life living with regard to homes and communities, health and social care, design and technology, planning matters and more, including ARCO's announcement of a housing with care Advisory Panel helping to shape policy, investment and the operational landscape. We look forward to contributing and reporting on the Panels progress.

Check this out and register here to keep in touch with all our news alerts and other notifications of your choice, sent direct to your inbox. And remember you can also follow us via our Twitter feeds: @HousingLIN, @HousingLINews and @HLINConsult

Lastly, if you would like to talk to us about any matters highlighted, share learning about your work and/or discuss how our consultancy services can assist you, email 'Jeremy talks' at: info@housinglin.org.uk

You can also listen to Jeremy talks… here

Best wishes and stay connected and be safe,

Jeremy
---
This week HLINks also includes:
a round-up of latest/updated Covid-19 resources and guidance relevant to the sector
our usual a round-up of news headlines and new resources on housing, ageing, design and technology, planning, health and care, calls for information
In association with Tetlow King Planning, the updated Older People's Care Development – Local Development Plan Monitoring
Housing LIN virtual networking events – join us for HAPPI Hour!
Next week we publish a Housing LIN Viewpoint by LeGrand on the digital switchover and futureproofing grouped living developments. We are also partnering with Shakespeare Martineau with a new Ipsos Mori Later Living and retirement housing survey.
We also feature our HAPPI Hour on Thursday, 15 October with the TCPA and Tetlow King Planning on the latest in planning for healthy communities and the current Planning White Paper consultation. Drinks not included!
The Housing LIN would like to thank Willmott Dixon for their support in producing this newsletter.
Stay connected, stay well and, above all, be safe!